This post is part of a series highlighting the ART bus lines throughout Arlington County and how both residents and visitors alike can take advantage of the ART bus system.
Check out the other ART routes in this series here.
ART 92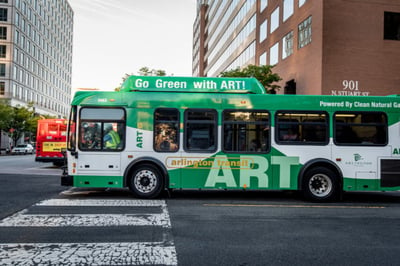 The ART 92 connects Crystal City and its namesake Metro Station, the VRE train station and Long Bridge Park and the Boeing offices and the Pentagon. Visit the Commuter Store in the Crystal City Shops to purchase fare cards and ask the knowledgeable staff about all things transit.
Route Highlights: Use the ART 92 for commute options to Crystal City and Boeing, but also to enjoy Long Bridge Park, about 30 acres of outdoor recreational fun. This is a great bus for leisure or for work.
Urban Villages Served: Crystal City
Route Timings
This route runs Monday – Friday from 6:15am to 9pm, at 30 minute intervals.
Get the details on the ART 92 downloadable schedule and always keep tabs on arrivals with the ART real-time tracker.
Metro Station Stops
Connect to the Blue and Yellow Metro Lines at both Crystal City, or hop on other buses.
Highlighted Stop
Long Bridge Park is a destination in itself, so be sure to make some time to get off the ART 92 on your way home from work. Check out the three full-size, multi-sport, lighted fields and walkways. Or enjoy the public art and watch airplanes flying into and out of Reagan National Airport. You can also grab a healthy snack from one of the FitArlington healthy vending machines if you're feeling puckish.
If healthy snacks aren't your thing, take a (healthy) walk south of the park to the numerous restaurants and shops in Crystal City for milkshakes, cheese, hamburgers, tapas, sushi and salads. You could always take Capital Bikeshare, as there is a dock at Long Bridge Park and several throughout Crystal City.
Photo Credit: Sam Kittner/Kittner.com