We hope you are excited for our fifth annual Our Shared Street Pop-Up event on September 14. This family-friendly party is a fun way to learn about the available transit options in your neighborhood, get to know your neighbors, and discover local businesses.
Our partners play a huge role in making this event a great experience for everyone. They give attendees an opportunity to explore and interact with local businesses. We're excited to showcase our mobility experience station where you can try new mobility options. A special thank you to our key event sponsor, the Rosslyn Business Improvement District (BID) for making Our Shared Street possible this year.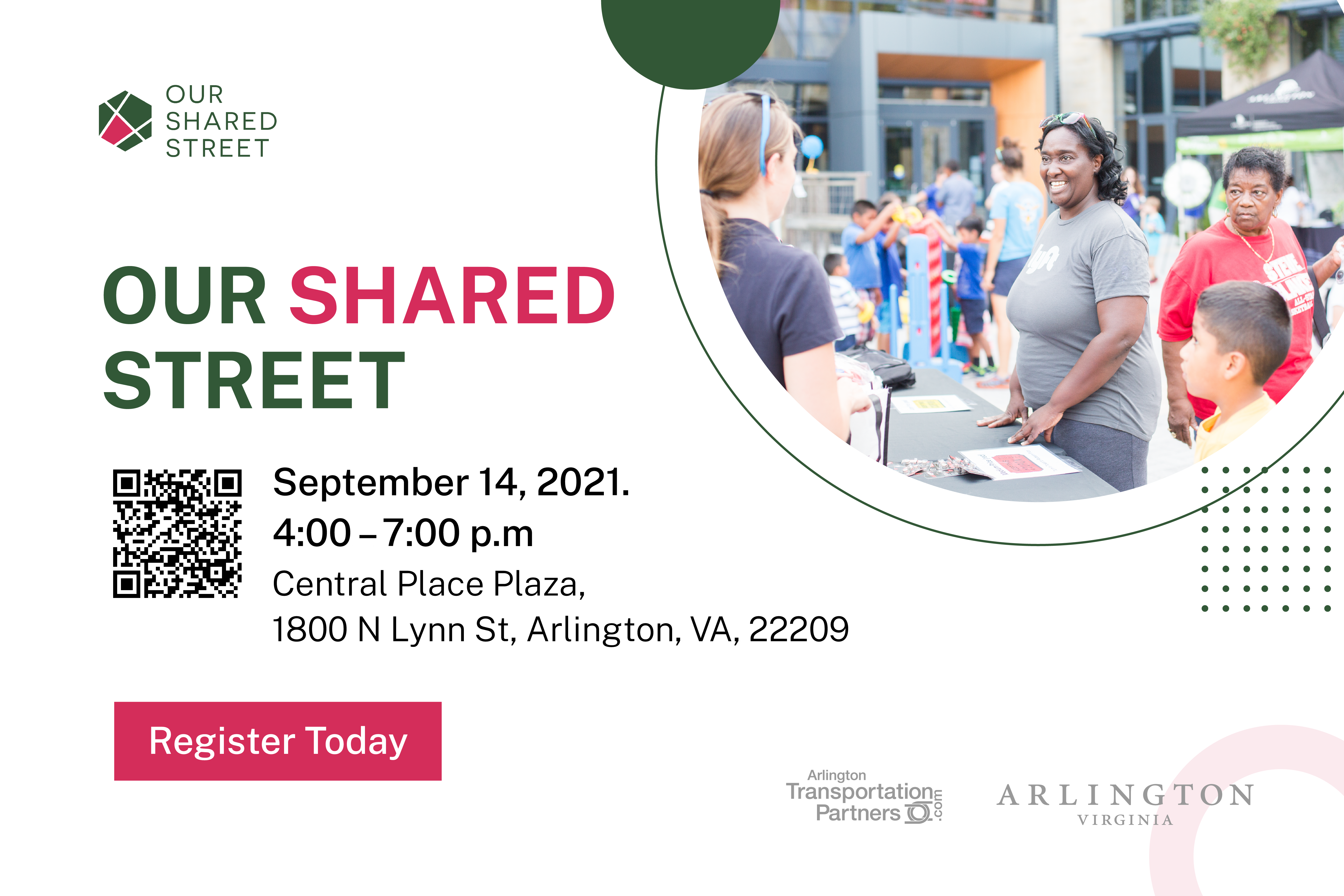 Meet Our Partners
The Rosslyn BID supports a thriving urban, active and connected community that is home to businesses, retailers and residents. Through new mixed-use residential options, a rich network of transportation options, and reimagined public spaces during the pandemic, the Rosslyn BID encourages the community to travel safely and enjoy all that Rosslyn has to offer.
Thanks to our key sponsor, the Rosslyn BID, Nando's Peri Peri will be handing out free sandwiches to attendees starting at 4pm. It's first-come, first-serve, while supplies last!
Bird is passionate about vibrant communities that have less traffic, cleaner air, and safer streets. They work with cities and countries across the world to provide new transportation options, complement public transit systems, and invest in safety infrastructure that benefits everyone. Explore their free Safety School training and come test out your e-scooter skills at Our Shared Street.
Come learn about Arlington County's commitment to eliminate traffic fatalities by 2030 through the Vision Zero Action Plan. No matter if you walk, bike, drive, or take transit to reach your destination, we can all play an important role in making Arlington's roads safer for everyone.
Need a quick bike tune-up? Velofix bike technicians will be on-site providing free basic bike tune-ups at Our Shared Street. Depending on how much you ride, it is recommended to tune-up your bike at least once a year to keep it in good working condition.
Starting September 5, WMATA and ART are ramping up transit service and offering great deals for those returning to the workplace or schools this fall. Stop by and pick up transit brochures, order transit passes, and find out more about how your local transit service may change.
Pick up a bike map and explore Arlington County's network of mixed-use trails, including the nearby Custis trail and Mount Vernon trail access points in Rosslyn. The BikeArlington team will also be available to sign you up for bike lessons and Capital Bikeshare will also have e-bikes on display and opportunities to sign up for memberships. You can also learn about Capital Bikeshare for All.
Learn more about Sustain & Save, a new incentive program that offers I-66 drivers a $100/month bonus for switching to sustainable modes of transportation such as public transit, carpooling, vanpooling, walking, or biking.
Sign Up for Our Shared Street
Let us know that you'll be attending this year's pop-up event! Registration is free to the public and all are welcome.
Photo Credit: Sam Kittner/Kittner.com for Arlington Transportation Partners