Roof decks, bike parking, lobby renovations, fitness centers – these are just some of the new features and projects that were highlighted on a recent tour of commercial buildings and real estate development projects in Rosslyn.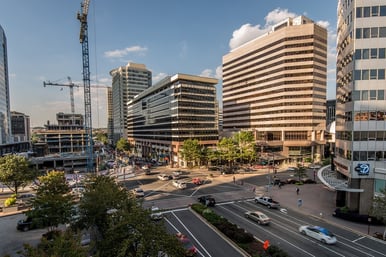 In addition to these elements, the tour also showcased Rosslyn's strengths in regards to location, transportation options and neighborhood improvements.
Historically, Rosslyn has been known for the busy nine to five office crowd and dull high rise buildings, but lacking a sense of community and quality retail spaces that could attract non-workers and visitors to the area. However, the neighborhood has always remained one of the most accessible locations in the region, with numerous transportation options to destinations throughout Arlington and DC.
Recent programs, initiatives and new development projects have begun to turn this image around over the past few years, making Rosslyn an increasingly attractive destination for businesses, residents and visitors. Branding and marketing efforts from the Rosslyn BID have had a significant impact during this transition period, as well as real estate investments from developers and property owners in the neighborhood that have garnered excitement about the future of Rosslyn. The Realize Rosslyn Sector Plan, recently approved by Arlington County's Board, will also help set in motion additional development as well as planning for open space, parks and retail growth.
This past week, I attended a building tour in Rosslyn hosted by the Arlington Real Estate Group with Arlington Economic Development. The tour showcased upcoming and existing properties that are contributing to placemaking efforts in Rosslyn and are indicative of the desire for businesses to locate in the area. Through these projects, as well as the recent drop in the office vacancy rate in Arlington, it's clear that property owners see the long term benefit of upgrading their existing buildings in the Rosslyn submarket.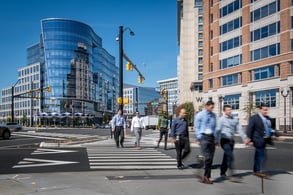 The sites we visited were all quick to highlight their access to nearby transportation options, including Metro Stations, bus routes and Capital Bikeshare as well as the growing preference of tenants to locate in transit and amenity-rich urban areas. Several of the buildings have undergone extensive renovations and upgrades, including 1500 Wilson, Arlington Tower and 1616 N Kent Street. While these buildings are older than some of the newer developments, their owners have been able to reposition their assets and attract quality tenants. Arlington Tower was able to secure three major leases with Graham Holdings, Promontory Interfinancial Network and FBR, all moving their headquarters into the building.
New amenities and features also had a large focus during the tour, such as new roof decks, fitness centers and secure bicycle parking. These properties, notably Brookfield's Potomac Tower, JBG's CEB Tower, Tishman Speyer's Arlington Tower and 1812 North Moore by Monday Properties, have recognized the growing market demand for high quality amenities that are being added in new developments, especially in competing submarkets such as NoMa, Capitol Riverfront and the East End.
Finally, the tour highlighted the increase in street level retail that will greatly contribute to placemaking efforts and attracting not only businesses, but residents and visitors. Penzance's 1500 Wilson recently underwent a full building renovation including their retail spaces and has brought in a Capriotti's sandwich shop and the much-anticipated Target Express store. Across from the Rosslyn Metro Station, JBG's CEB Tower and Central Place development will have eight new dining options when complete, as well as additional retail options for the Rosslyn population. In addition, the 31-story residential tower will add 377 apartment units, bringing a large influx of residents and boosting the nighttime population of the neighborhood.
Overall, the outlook is positive for Rosslyn with several exciting projects in the pipeline that will continue to change the dynamics of the neighborhood and create a stronger community of residents, workers and visitors. With this growth and changes in the area, it will continue to be important for ATP and Arlington County Commuter Services to work with businesses, property owners and residential communities in reducing traffic levels in Rosslyn and encouraging the use the various transportation options available.