The Northern Virginia Transportation Commission (NVTC) aims to guide transportation projects throughout the Northern Virginia region. Many of the commissioners at NVTC are elected officials from the six member jurisdictions and six are appointed by Virginia's General Assembly. An additional commissioner is appointed by Virginia's Secretary of Transportation. NVTC has played a pivotal role in many of Northern Virginia's most important transportation projects, such as VRE, the Silver Line and the I-66 HOT lane project. Given the purview of this organization's scope of work, it makes sense that the NVTC staff have access to some of the most robust transportation benefits that are proven to reduce the negative effects of traffic congestion and poor air quality.
The staff leadership understands the importance of work/life balance and the role that commute options can have on that balance. In light of this, a fully subsidized transit benefit and parking cash out benefits are offered to employees so that they can commute affordably or even get paid to not use a parking space in their building's overcrowded garage. The staff is also encouraged to work from home through the organization's formalized telework policy and utilize their flex scheduling option when needed. Many staff choose to bike or walk to work and are able to use the building's locker and shower facilities to freshen up before beginning their work days.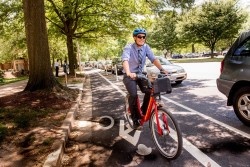 After meeting with Arlington Transportation Partners, NVTC decided that one of the crucial transportation benefits they were lacking was discounted Capital Bikeshare access for employees. They decided that gold level corporate membership was right for them and now employees have access to fully subsidized Capital Bikeshare annual memberships! The decision was an easy one for NVTC to make once they realized how affordable a benefit Capital Bikeshare corporate membership was.
With Capital Bikeshare under their belt, NVTC leadership was also intrigued by ATP's Vanpool Connect program. In order to move up the Champions ladder, the Northern Virginia Transportation Commission is currently in process of completing an employee transportation survey. This survey will provide invaluable data to decision makers and to ATP to help implement even more transportation benefits for their employees.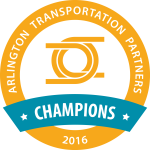 Arlington Transportation Partners is proud to recognized NVTC as this month's Champion of the Month for their outstanding commitment to sustainable transportation programs here in Arlington County.