2014 is quickly coming to a close and it's our last chance to highlight Champions before the New Year, so we thought we'd really switch it up and go out with a bang. Instead of highlighting just 1 Champion, we're highlighting 12 Champions.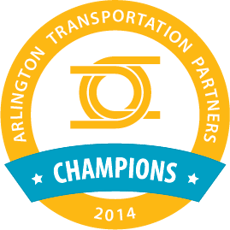 Each time we highlight a Champion of the Month, it's important that you know what makes them so special. This month, it's simple – all 12 Champions are located on Columbia Pike.
Our Columbia Pike Champions work hard to improve the Urban Village by offering employment and retail opportunities as well as affordable housing options. While that happens all over the County, our Champions on the Pike are also actively promoting the benefits of public transportation and why it matters, in light of recent setbacks.
So grab your dancing shoes because it's a Pike party and you're invited! Check out our Columbia Pike Champions; better yet, hop on the next bus and visit them.
Employer Champions
The following Champions are part of our Employer program. Each company is unique in that they offer benefits for both their employees and Pike patrons.
Columbia Pike Revitalization Organization (CPRO) – SILVER LEVEL


The COLUMBIA PIKE REVITALIZATION ORGANIZATION (CPRO) is a coalition of businesses, civic associations, property owners, and the Arlington County Government. CPRO's mission is to inspire, support and provide direction for a wide variety of initiatives that aim to improve and revitalize Columbia Pike and its adjacent neighborhoods.
Currently, CPRO is a Silver Level Champion offering their employees an informal telework policy as well as Capital Bikeshare Corporate Memberships. CPRO also heavily promotes biking and walking and participates in ATP events like Car-Free Day. CPRO hopes to be gold in the coming year by adopting an ART bus stop!
Papillon Cycles – SILVER LEVEL
Your one-stop bike store, a fixture on-the-pike since 1984 (in business since 1976!), Papillon Cycles is proud to offer its customers the latest in biking equipment, prompt and expert servicing, and a gathering place for local bikers.
Papillon Cycles recently joined our Champions program offering flex/staggered work schedules for their employees and obviously actively sharing the value of biking around the County. Papillon Cycles is currently in the process of applying for their Bicycle Friendly Business designation and exploring Capital Bikeshare as a transit option for their employees who might not own a bike.
RedRocks Arlington – BRONZE LEVEL
RedRocks is an upscale neighborhood pizzeria with 4 locations in the DC area. The Arlington venue, located in Penrose Square, is a Bronze Level Champion. RedRocks has worked closely with ATP to determine transportation opportunities for their patrons, including options like late-night bus service.
As a Bronze Level Champion, RedRocks offers transportation information to employees and patrons and as has even posted a Car Free Near Me link on their website. While they already offer flex-time and staggered work schedules for their employees, RedRocks is looking to secure their Silver Level status in 2015!
Residential Champions
The next set of Champions are all residential communities who offer transportation amenities to all their residents. From free maps and transportation materials to hosting lobby events for their residences, these communities value their residents by giving them mobility options.
55 Hundred (Monogram Apartment Collection) – BRONZE LEVEL
55 Hundred features luxury one and two-bedroom apartment homes in the heart of Arlington VA. The energy this city has is contagious. The pace is fast. The trends are prolific. The flavors are abundant as well as diverse. Let 55 HUNDRED be your guide to everything fashionable, metropolitan and influential in the D.C. area. Our modern apartments provide you with the perfect platform to radiate in every way. Let's start at the top. Our rooftop swimming pool gives you the ultimate view from any angle day or night. Inside our mid-rise urban community, you'll discover pops of color and impeccable design. Boutique hotel style is the inspiration. Inside your apartment, the designer touches and intelligent pampering continue. Live here and nothing will slow you down.
Arlington Mill Residences (Paradigm Management) – BRONZE LEVEL
The Columbia Pike Neighborhood has been a center of Arlington for over 200 years and is considered an urban village with main street feel. Arlington Mill Residences is an affordable community featuring green design, energy efficient appliances, and community center. Come enjoy being within minutes to Route 50, I395 and Route 7 and within walking distance to the Arlington Mill Community Center and GlenCarlyn Park.
Buckingham Gardens (The CT Group) – BRONZE LEVEL
Buckingham Gardens, a historic affordable housing community, is located in Arlington's Buckingham neighborhood. The garden style property is conveniently located near public transit, shopping and schools. The community's park-like setting and strong sense of community make it a popular choice for Arlington families.
Dominion Towers Apartments (The JBG Companies) – BRONZE LEVEL
Dominion Towers Apartments offers not just a prime location, but a true sense of community – and a fresh new style, from the upgraded kitchens and baths to the new amenity spaces. Just off Columbia Pike on South Courthouse Road, these apartments are near prime locations including Pentagon City, downtown Washington, DC, Pentagon City Mall, historic Old Town Alexandria and more. With breathtaking views of the Army Navy Golf Course and the added bonus of a convenience store in the building, Dominion Towers is the pinnacle of convenient living. Make these newly renovated Arlington apartments in Northern Virginia your next new home.
Dorchester Apartments (E.G. Reinsch Company) – BRONZE LEVEL
Our motto is simple: Live here, live better! Dorchester Apartments has the location you need and the amenities you want, all at reasonable rates. Conveniently situated on Columbia Pike about one mile from Pentagon and Pentagon City Metro stations, our location offers shops, restaurants, entertainment and more all within walking distance. Our community also features a fantastic exercise facility, Olympic size swimming pool and beautifully landscaped grounds, creating the perfect living experience!
Dorchester Towers (E.G. Reinsch Company) – BRONZE LEVEL
Dorchester Towers offers the convenience of city life with unparalleled tranquility and a great sense of community. Located on Columbia Pike about one mile from Pentagon and Pentagon City Metro Stations, our apartments are an easy walk to shopping, dining, entertainment and more. Combine that with fantastic amenities like a swimming pool, roof garden, and tennis court, and you'll see why Dorchester Towers is a great place to call home!
Oakland Apartments (E.G. Reinsch Company) – BRONZE LEVEL
At our community you'll enjoy more than just our charming apartments and beautiful landscaping. Our location on Columbia Pike provides you easy access to restaurants, shopping, schools, and surrounding landmarks such as the Pentagon, Pentagon City, the Navy Annex, the National Foreign Affairs Training Center, the Army National Guard Readiness Center in addition to many Washington, D.C. locations. All this at moderate rates, and you'll see why our residents love living at Oakland Apartments!
Penrose Square (BM Smith) – GOLD LEVEL

Penrose Square offers a glimpse at what the future holds for residents and businesses of Columbia Pike. Often thought as a traffic-ridden, car-only throughway, Penrose Square has proven that Columbia Pike can and will be so much more. Walkable, bike-friendly, urban spaces are what today's tenants want and Penrose Square is the first on the block to meet this demand.
Westmont Gardens Apartments (E.G. Reinsch Company) – BRONZE LEVEL
Westmont Gardens Apartments is a conveniently located apartment community with reasonable rates and fantastic amenities. Situated on Columbia Pike, the apartments are minutes away from restaurants, shopping, grocery stores, schools, churches, and are easy access to the Pentagon, Pentagon City, the Navy Annex, the National Foreign Affairs Training Center, the Army National Guard Readiness Center and many Washington, D.C. locations. Beautiful landscaping, a state-of-the-art exercise facility and an Olympic size swimming pool are just a few of the advantages that you will experience living at Westmont Gardens.
For more information about Champions, read our FAQ. To get started on your Champions journey, email solutions@transpartners.com.