How does your office building promote health, wellness and sustainability? With Spring just around the corner, great events and programs such as National Walking Day, National Bike Month and Bike to Work Day are coming up! These events can be effective ways to attract and engage tenants, while also supporting a healthy lifestyle and workplace.
Through ATP's work and Champions program, we've noticed that the issue of employee health and wellness has become more important for employers in Arlington County. However, there's only so much employers can do to promote active commutes and wellness programs without additional amenities provided by their building.
Working with over 650 businesses, we hear it all the time: they want to promote biking and fitness to employees, but without showers or secure places to park their bike, it's a hard sell.
Most commercial properties that have County site plan conditions typically are required to provide secure bike parking (covered, with limited access) as well as visitor bike racks for tenants. While it is required, bike facilities are popular amenities that newer trophy and class A buildings can market to tenants. Older office buildings without such requirements are being forced to consider adding such amenities due to the competitive commercial office market in the area.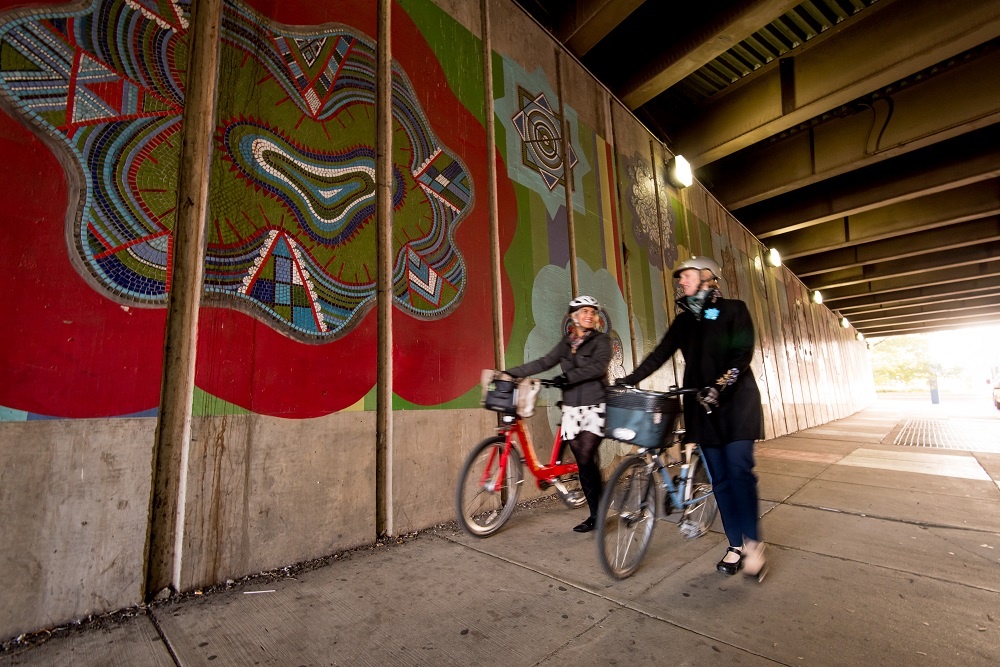 For buildings that might be thinking about these amenities, what is the standard for good bicycle parking as well as shower and locker facilities?
Location, materials, and how the amenities are managed are just a few of the things that need attention when drawing plans and installing hardware. This blog post from Mobility Lab last year, "10 Rules for Construction of Good Bicycle Parking" lists some important things to consider when installing bike parking as well as why these elements make a difference in encouraging tenants to bike to work.
In addition, the number of bicycle parking spaces may vary depending on the available space, but in many site plans, it is typically required to provide one parking space per 7,500 square feet of office floor area. The Arlington County "Guide to Effective Bicycle Parking" is a great resource and is distributed to site plan properties when planning their bike parking facilities.
With shower and locker facilities, at least one shower per gender is necessary, as well as at least one locker per bicycle parking space. While anyone using the facilities can have daily access to the lockers, many property managers only allow registered bicycle commuters in the building to use the lockers 24/7. This allows those riding their bike to leave things like shower toiletries, work shoes, and other items at the office instead of taking them home each day.
In addition to marketability and greater tenant satisfaction, buildings that provide bike amenities can benefit through recognition and certification programs.
ATP's Champions is free and offers local recognition as well as additional support and initiatives to keep properties and their tenants engaged all year long. Buildings can also earn LEED points through the Location and Transportation credit in the Operations and Maintenance, Existing Buildings certification. The Bicycle Friendly Business designation through the League of American Bicyclists provides national recognition for businesses and their commitment to encouraging bicycling among employees and tenants.
While it certainly takes significant time and resources to install bike friendly amenities, these facilities are relatively fast and easy to implement, and cost far less than providing additional parking spaces or garage improvements. These amenities can be effective in attracting new tenants, retaining current leases, and ultimately improving the return on investment for ownership.
Photo Credit: Sam Kittner/Kittner.com