Rainy mornings like today certainly don't make it easy to get out of bed in the morning, and it's even harder to convince yourself to bike or walk to work when it's wet and gross outside. Carpooling or taking public transit are good alternatives on rainy days, however, if you don't feel like changing your commuting routine because of the weather, there are things you can do to stay safe and (relatively) dry.
Clothing is obviously an important factor in keeping you from getting soaked in your commute to work. Rain gear – such as hooded rain jackets/capes, rain pants (especially for bikers), and rain boots or rain shoe covers are the best options when biking or walking. It's also a good idea to bring your work clothes to change into once you arrive at work so you're not sitting in soggy dress pants all day. Waterproof gloves are can be helpful too, even when it's warm out, since they'll help keep your hands dry and allow for a better grip on bike handlebars. If you walk during your commute to work, having an umbrella is probably a no-brainer, but use an umbrella cover if you ride the bus or Metro to keep the floor and space around you dry. For cyclists, a helmet cover is the best way to keep your head from getting wet.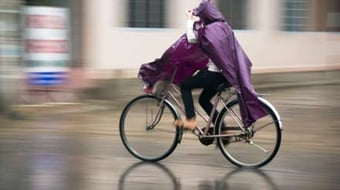 Make sure you're visible to motorists and other pedestrians and cyclists. Bright clothing that has reflective bands is especially important since it's typically darker out on rainy mornings. Cyclists should also always have a front headlight and rear lights on or flashing when biking to increase visibility to other road users. LED lamps are inexpensive and most have clips that you can attach to your seat, backpack, or helmet.
Be alert and cautious when walking or biking in the rain. Cyclists should be aware when riding over metal objects such as manholes or construction plates, as well as painted road lines - these surfaces can become very slippery when it's wet out. In addition, watch out for puddles, as these may be submerged potholes or oil slicks, which can particularly hazardous when biking in the rain.
Finally, good maintenance will go a long way and keep your bike in good condition after riding in the rain. Clean off your bike when you get to work, especially important parts such as the chain and brakes, so accumulated dirt won't affect your bike's performance. Fenders are also a good investment for rainy days, as they can help keep you clean and dry and protect exposed parts of your bike.
Do you have any other tips for commuting in the rain? You can also check out BikeArlington and WalkArlington for more advice and information on biking and walking in Arlington County.
Don't let the rainy weather affect your commute…for a little inspiration, check out these hardy cyclists biking in the rain in Copenhagen!