I was in the beautiful City of Roses, Portland, Oregon last week for the Association for Commuter Transportation's (ACT) International Conference*. I had scouted Portland out as a place to relocate a few years after graduating college but the move was not to be and I hadn't been back since. However, Portland being "out of sight" certainly doesn't equate to being "out of mind" when you have a career in the mobility management industry.

Portland and Arlington have been competing with other transportation choices friendly cities on this stage for many years now. Some even consider Arlington the Portland of the East although I would argue Portland is the Arlington of the West (wink). As practitioners, our expectations were high both for the conference and the location.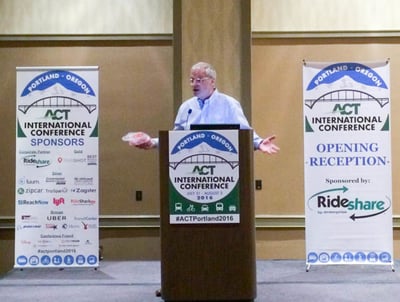 The conference had some great takeaways starting with a welcome and opening remarks from ACT's longtime congressional friend representing Oregon's third District, Earl Blumenauer. Representative Blumenauer's remarks included recognizing the strides mobility options and active transportation have made but acknowledging the fact that there is still much work to do even in top tier bike friendly cities such as Portland.
Gabe Klein was the first keynote kicking off the conference and is no stranger to ATP having been the Director of DC's DoT. He shared fabulous nuggets from his experiences which you can read about in his easily consumable book Start-Up City. Klein predicts that private investment in public transit will increase. It's always interesting when a visionary pulls out their crystal ball. With many communities incorporating Transit Oriented Development principles in their planning it's a logical likelihood.
Other sessions provided a variety of learning opportunities including but not exclusive to behavior change, commuter benefits and ordinances, performance measures, parking, active transportation (biking/walking), vanpooling, TOD, TMAs, Telework, bikesharing, technology, mobility on demand, public policy, international TDM and marketing. As our industry and the work of our partners evolves so has our programming. So much so that ACT is adding a third conference to their annual offerings in the fall with an Inaugural ACT TDM Forum in Boston.
Speaking about the social side of Portland is easy. Whether you participated in official ACT conference offsite tours or explored on your own, Portland's vast mobility options were always the easiest choice. I biked to Washington Park to visit the International Rose Test and Japanese Gardens. Given the steep 700 foot elevation gain I would highly recommend putting your bike on the front of TriMet 63 to arrive and enjoy the downhill coast back to the city center.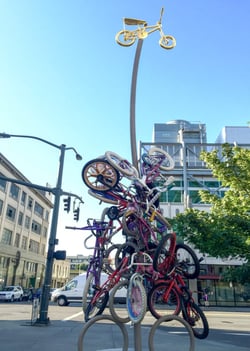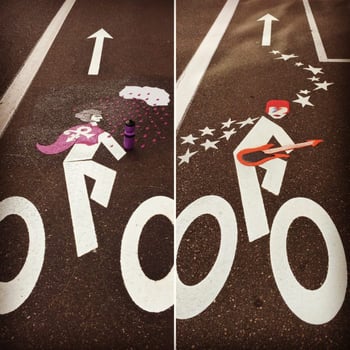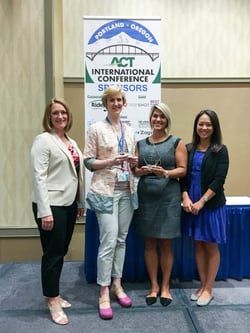 I found Portland's bike infrastructure and their many bike boxes and green lanes refreshing, but was admittedly surprised that I didn't experience any lanes that were removed from the road itself. Having said that, I didn't feel the aggression from drivers around me like I have in other cities – especially since I was unfamiliar with the city and hyper sensitive to my surroundings. I even biked onto some of Portland's bike culture/pop culture.
I would be remiss not to mention that our very own Arlington Transportation Partners left the conference with more hardware to display! I'm proud to share that ATP was awarded best Marketing & Outreach for a public agency and Elizabeth Denton was recognized as an Emerging Leader. I would like to formally thank all of our partners and collaborators for the great support providing us the opportunity to strive for excellence in Arlington County, and the region. As Blumenauer mentioned, our work here is not done. I better get back to it.
*Full disclosure – I am a Program Committee Chair and an At-Large Board Member for ACT.