Despite yesterday's weather, Spring has in fact arrived – bringing (hopefully) warmer weather, fun activities and events, and more of our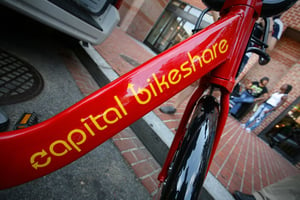 favorite Capital Bikeshare bikes! After over a yearlong process of research, public input, and planning, the CaBi expansion in Arlington is finally going to begin this week, with the installation of three new stations in the Columbia Pike and Shirlington areas on Thursday, March 28th! In addition, these stations will bring the total number of bikeshare stations in the region-wide system to over 200!
Join us at 9am on Thursday as Arlington County Board Chair Walter Tejada officially opens the station at Walter Reed Community Center – the first of over 30 new stations in the county that will be installed in the coming months! Members of the public are welcome to attend as we celebrate the expansion of an affordable, simple, and convenient mode of transportation for county residents, workers, and visitors. Check out the full list of proposed station locations here!
With the new station installations and upcoming Spring bike events, this a great time to sign up for a Capital Bikeshare membership or consider offering your employees a Corporate Membership! With various member levels and discounted pricing, your employees will benefit from a healthy and easy way to get around, either for commuting or during the workday. Contact ATP today for more details! We can also provide additional information about how the system works, as well as safety, routes, and general bicycling info to your employees or residents.
We hope to see you on Thursday morning – we're excited for more red bikes to start popping up in Arlington!