Yesterday, Metro's blog, PlanItMetro, wrote an analysis about the travel behavior of customers who drive and park their cars at Metro stations. Using data from the Metrorail Passenger Survey, the author was able to determine where most Park and Ride commuters are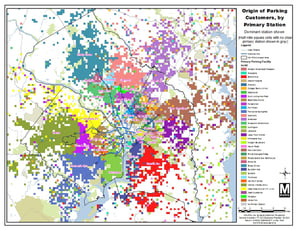 coming from and how far they travel to get to a Metrorail station. It turns out that nine stations at the ends of each Metro line serve the majority of riders (70%) traveling more than 3 miles to get to a station, extending Metro's reach to places like Annapolis, Frederick County in Maryland, and Manassas (See map to the left from WMATA). However, at the other 26 stations that have parking facilities, most commuters who are driving to those stations live fairly close, primarily within 3 miles.
We know that mornings can be a stressful time with things like getting the kids to school or rushing to an early meeting, and it might seem easiest just to grab the car keys and drive to the Park and Ride lot at the nearby Metro station. However, with a little planning and preparation, options like biking, walking, or the local bus are great ways to go the short distance to Metrorail stations! Of course, some areas are better than others for these transportation modes, but knowing what your "first and last mile" transportation options are can have a positive effect on your commute and workday.
1-3 miles is the perfect distance for a beginning bike commuter, and nearly all Metro stations now have bike racks and lockers to store personal bikes during the day. A previous blog on PlanItMetro shows that bicycle access to Metro stations has increased by 50% over the past five years, likely due to an increase in better bicycle facilities and storage options, as well as the growth of Capital Bikeshare stations throughout the DC area. If you're new to bike commuting, try out tools like Google Maps or resources like the Arlington County Bike Map to plan your route to the Metro station. Also make sure to register your bike with the Metro Transit Police – it will be easier to recover if lost or stolen!
Walking to Metrorail stations can take a little longer than desired, but if you're looking to get extra exercise, this is a great way to start your day with some cardio! See if you have a friend who lives nearby and walk to the Metro together – just remember to wear bright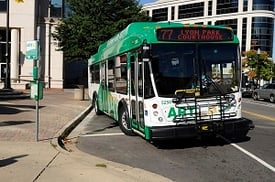 clothes when it starts getting dark out!
Finally, the bus is an affordable and quick way of getting to Metrorail, and you can leave the car at home. Nearly all Metro stations are complemented by Metrobus routes, ART bus routes, Fairfax Connector, DASH, etc., so those living within 1 to 3 miles of a station probably are very close to a local bus stop. You can get also a $.50 discount with your SmarTrip card when transferring between Metrobus and rail or vice versa. Check out the Service Nearby tool on WMATA's website to see what bus routes are close to your home location!
Try one of these modes instead next time you head to the Metro, or at least just being aware of all your nearby options – you never know when you might need that backup commute plan!