Airlines Reporting Corporation (ARC) continues to be an outstanding Arlington Transportation Partners (ATP) Champion by offering a wide range of commuter benefits and hosting transit events to encourage employees to commute via modes such as Metrorail, bus and bike. Being located in Clarendon Center, which is also a Champion, makes commuting via Metrorail and bus is an flexible choice for many ARC employees. Access to a shower facility and secure bike parking provided by the building makes biking to work an easy commute option as well.
Steve Arrington is a Web Usability Designer at ARC and has been bike commuting to work regularly. He's shared with us how it all started.
Steve's 8-Mile Bike Commute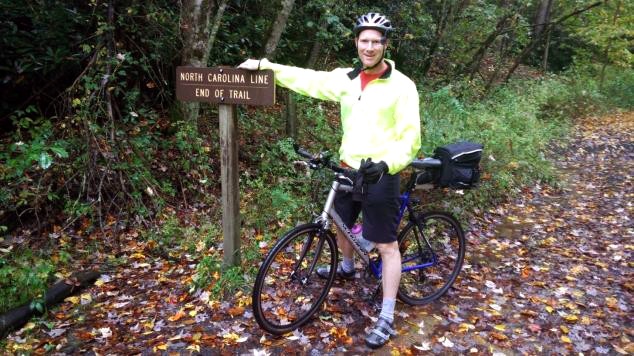 For the past 10 years, I've commuted to work more often on two wheels than on four, under my own power, for a total of 36,000 miles.
About 11 years ago, I was working as a government contractor, driving to work about 25 miles each way. I worked at off-hours to avoid traffic and while I was getting home by 4p.m., slight changes to my work schedule and traffic accidents dramatically affected my quality of life. When I was hired by ARC just eight miles from home, I realized that biking would be the perfect option.
Why I started biking to work
It just seemed like the right thing to do – financially, physically and emotionally. I easily save hundreds of dollars every year and I no longer need to pay for a gym membership to stay fit. I know exactly how long it will take me to get to work. And, I'll admit that I also like breezing through the bike lane, passing cars stuck in traffic. I'll never forget the time I biked during the polar vortex in sub-zero temperatures. True, I had to use hand and toe warmers that day, but it makes for a good story!
How do you start?
Just do it. Seriously, just commit to do it and follow a plan to make it happen. I first tested out my commute on a Saturday to figure out timing and logistics, and then I settled into the habit.
I didn't stock up on expensive gear like many are tempted to do. I kept it simple with just my bike and a helmet. My first bike wasn't much to look at, just a $110 steel-framed monster that couldn't have been heavier if it had actually weighed a ton. I've certainly worn out and upgraded gear since then, and consequently learned how to do most of my own bike repairs.
Prepare for the work day
When I first started my bike commute, the office was close enough that I didn't really work up a sweat on the inbound ride. Once I got to the office, I would towel off and change into fresh clothes I kept at my desk and I'd be ready for the day.
These days, I take a shower because work is a mile further each way. I don't bike every day since I drop off one of my kids at school. Otherwise, little has changed over the years and I enjoy that.
If you live under 10 miles from work, give biking some serious thought. Riding your bike to work is a fun way to stay fit, de-stress and save a little cash. If you need any tips, I'm here for you and I hope to see you on the path!
Create an Active Work Culture
Incorporating physical activity in your daily commute helps maintain a work-life balance and keeps employees engaged and productive. Organizations can support an active work culture and promote health and wellness by hosting bike safety and maintenance workshops for employees. ATP can assist you with setting it up and providing transportation information to your employees, just contact us.
Photo Credit: Steve Arrington for Arlington Transportation Partners