I recently took a quick trip up to Montreal, Quebec for a change of scenery and while I had heard great things about their transit, pedestrian, and bicycle infrastructure—I wasn't sure what to expect. When I arrived, I was surprised by how much support there was for biking, walking, and transit. As I walked around over the next five days, I thought about the different ways the city encouraged people to use various modes of transportation and created space on their streets for all.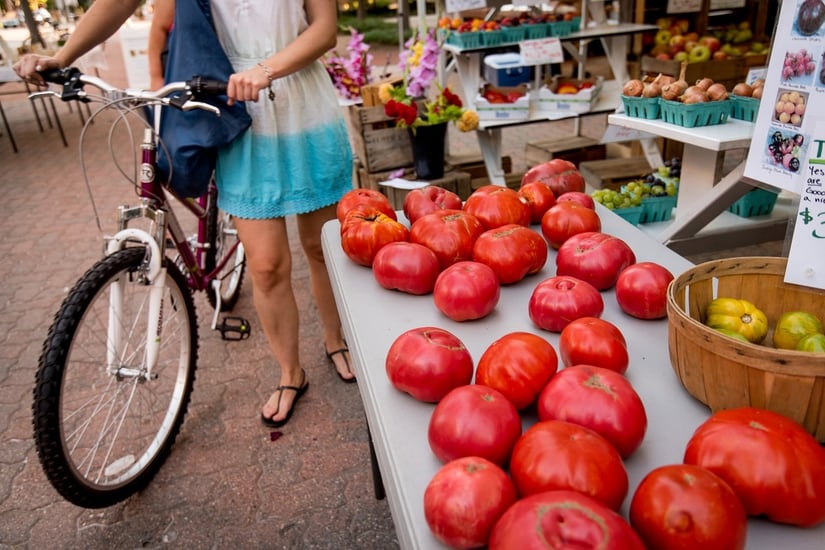 Car-Free Zones
In Montreal, the street where my hotel was located was one of the city's many streets that is closed to vehicle traffic and only permits cyclists and pedestrians. In fact, Montreal has 56 pedestrian-only streets. These zones allow pedestrians and cyclists to feel secure and encourage visitors, who may typically be hesitant, to try biking comfortably in a car-free area.
Additionally, these zones allowed the city to set up pop-up markets and galleries. These kinds of activities encourage more people to go outside and walk around to see what's happening or make for an enjoyable and interactive journey en route to your destination.
In the DC area, we have far fewer pedestrian zones, but they do still exist. Ellsworth Drive in Silver Spring is closed to vehicle traffic on weekends to allow people to freely roam the downtown area. The stretch of road in front of the White House is also for pedestrians and bikes only. Here in Arlington County, Rosslyn has plans to add car-free blocks like this near the waterfront.
Parklets
Another thing I loved about Montreal was all the terraces in front of restaurants out on the street, that would otherwise be parking spaces. Nearly every restaurant gave up parking in front of their storefront by opting for a terrace instead. In addition to these private parklets, the city has various ones that are open to the public. One day, after picking up a sandwich from the legendary Schwartz's Deli, I stumbled upon a shipping container turned art-filled public parklet and stopped in to relax and eat.
In Arlington, Rosslyn just opened the County's first official parklet right outside of our office at Wilson Blvd & N Oak St. It's great to see cities repurposing excess parking spaces to create an experience for people who want to live, work, and play in their neighborhood.
Pedestrian Scramble
In Montreal's central business district, the car traffic was heavier than in most other parts of the city. Just when I expected cars to be favored over other modes of transportation, Montreal threw in a little surprise in the form of a pedestrian scramble. A pedestrian scramble, also known as a "Barnes Dance," is a traffic signal which stops vehicle traffic in all directions so that for a period of time pedestrians can cross any which way they please, including diagonally, without fear. Not having to worry about a car turning or waiting at two stop lights to cross a street made walking in a traffic-congested area comfortable and convenient.
You can see a pedestrian scramble at work in DC now, too. Columbia Heights put in their own last year at the corner of 14th & Irving St NW in response to safety concerns at the intersection, which had seen six pedestrian crashes over three years prior to the traffic signal's installation.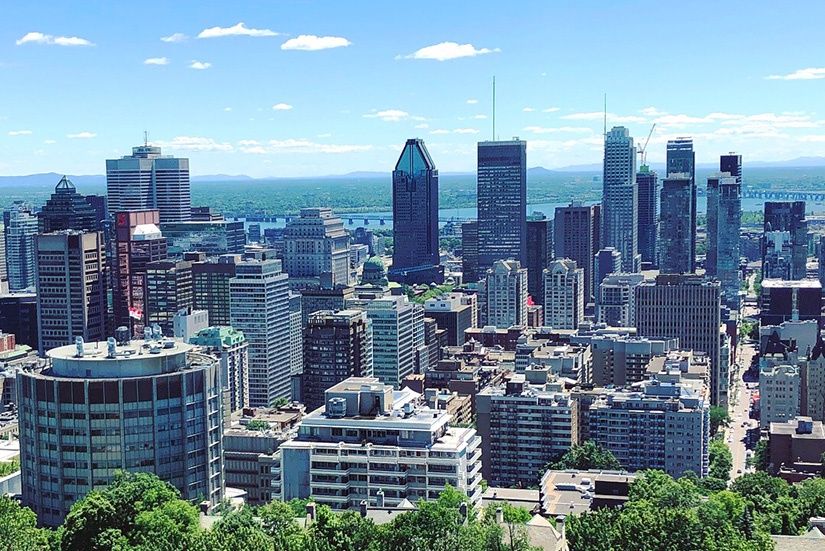 Underground City
While Montreal has beautiful summers, the winter can be a bit harsh. Montreal's Underground City allows people to keep moving when the streets are covered in snow or it's too cold to be outdoors. The pedestrian network covers about 20 miles and connects residents, employees, and visitors with metro stations, restaurants, and retail stores.
Arlington's Crystal City boasts their own mini Underground City which connects people with restaurants, retail shops, and the Crystal City Metro Station; it's also a great way to get around when it's raining or cold outside. Both Crystal City and Montreal's underground villages put an emphasis on public art, making exploring the area enjoyable.
Experience Montreal in Arlington
Having such pedestrian and bike friendly infrastructure didn't mean that no one drove in Montreal, it just meant that everyone had a place and could feel comfortable on their journey regardless of how they chose to reach their destination.
On August 7 from 5-7 p.m. at Columbia Pike & S Oakland St, you can experience a little bit of this with a car-free zone, local vendors, and plenty of activities for the whole family at Our Shared Street Pop-Up. Register today so you don't miss the opportunity to experience your street in a new way and have a little piece of Montreal right in your backyard.
Photo Credit: Sam Kittner/Kittner.com for Arlington Transportation Partners (1st photo); Marie Cox (2nd photo)