Whether you're a local or a visitor, everyone knows that flying out of Dulles International Airport has its advantages of being close to Arlington, VA and offering many great domestic and international travel destinations. However, if you're familiar with Dulles, you're probably also familiar with I-66.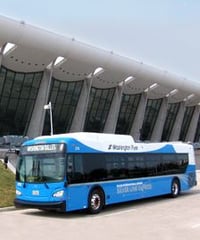 We know, we're sorry too. The headaches are many when it comes to trying to get to Dulles for a flight. If it's not traffic and the parking fees, then it's the high taxi fare. Or maybe you opted for a shuttle bus, but it's running late or even worse…ridiculously early.
If only there was a way to get to Dulles that was cheap, timely and on your terms. Oh wait – there is! It's called the Silver Line. Ok, so we know the Silver Line doesn't take you all the way to Dulles (yet!), but you can ride the Silver Line to Wiehle-Reston East Metro Station and then transfer to the Dulles International Airport Silver Line Express Bus.
The Silver Line Express bus costs a whopping $5 (one way fare) and runs every 15 minutes on the weekdays and every 20 minutes on weekends and holidays. If you have a bit more time on your hands and want to pinch a few more pennies, you can take the Fairfax Connector for just $1.75 (one way fare).
If you can't take the Silver Line for some reason, but still need to get to Dulles International Airport, Metrobus 5A still runs to Dulles with a pick-up at Rosslyn Metro Station.
Whether you're a resident or a visitor, you can plan your trip on commuterpage.com and use their point-to-point transit schedule, as pictured below.

Get every possible schedule on any day or plan a custom trip; either way, public transportation will get you to the airport and save you a whole lot of stress and money.
Lastly, maybe it goes without saying but if you're flying into Dulles, just reverse this commute to arrive in Arlington, VA!
If you are a visitor to Arlington County, be sure to visit our friends over at Stay Arlington to better plan your trip to Arlington and Washington, DC.