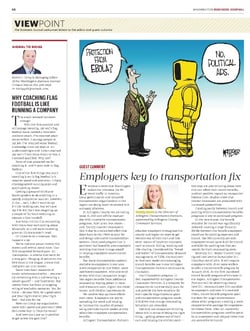 Arlington Transportation Partners' (ATP) Program Director, Wendy Duren, recently wrote a great piece about our services, Champions and how employers can influence a change in Arlington County commutes through their employees.
Duren states, "In Arlington County, we are taking some 41,000 cars off the road per day with innovative transportation programs, bike lanes, bus routes — and, frankly, smarter commuters." - See more here.
The article was originally published on Washington Business Journal, but you can read the full article on Mobility Lab.
For additional information on how your employees can be smarter commuters, email ATP at solutions@transpartners.com.