This blog was adapted from a press release received from Jacobs.
Today, the League of American Bicyclists recognized Jacobs with a Bronze Level Bicycle Friendly Business (BFBSM) award, joining more than 800 visionary businesses from across the country.
With the announcement of 150 new and renewing BFBs today in 39 states and Washington, DC., Jacobs joins a cutting-edge group of more than 800 local businesses, government agencies and Fortune 500 companies across the United States that are transforming the American workplace.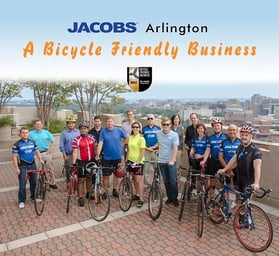 "Visionary business leaders are recognizing the real-time and long term impact that a culture of bicycling can create," said Andy Clarke, President of the League of American Bicyclists. "We applaud this new round of businesses for investing in a more sustainable future for the country and a healthier future for their employees."
Helpful, knowledgeable athletes and casual riders are all part of our bicycling community. Jacobs encourages bicycling as an easy option for transportation and provides amenities such as showers, covered parking and access to trails and bike lanes within mere feet of the building.
"Our commitment to bicycling connects with Jacobs commitment to a culture of caring. We encourage our employees to fully support the growing enthusiasm for safe cycling, while helping the environment and supporting a healthier lifestyle and workplace in our communities." says H. Thomas McDuffie, Jr. AIA RIBA, Jacobs, Group Vice President-Global Buildings.
Moving forward, Jacobs will have access to a variety of free tools and technical assistance from the League to become even more bicycle-friendly. When our employees bike, great things happen: we increase our company awareness, and most of all we share our passion with our work friends and family.
To apply or learn more about the free BFB program, visit the League online at www.bikeleague.org/content/businesses

Arlington Transportation Partners can help your business
Jacobs was able to achieve Bronze Level status with the help of ATP's Pinky Advani, Business Development Manager. Pinky worked with Jacobs during the application process to ensure everything went smoothly. Jacobs' successful application also set them up as a Gold Level Champion, ATP's County-wide recognition program. If you're interested in becoming a Champion or applying for Bicycle Friendly Business status, email solutions@transpartners.com.
About the Bicycle Friendly America(SM) program
The Bicycle Friendly Community(SM), Bicycle Friendly State(SM), Bicycle Friendly Business and Bicycle Friendly University(SM) programs are generously supported by program partner Trek Bicycle. To learn more about building a Bicycle Friendly America, visit www.bikeleague.org/BFA
The League of American Bicyclists is leading the movement to create a Bicycle Friendly America for everyone. As leaders, our commitment is to listen and learn, define standards and share best practices to engage diverse communities and build a powerful, unified voice for change.