While in San Antonio last week for the Association for Commuter Transportation's annual conference, I was surprised to discover a range of livability elements I had not expected to find. Bikeshare, a beautiful walking and biking trail, traffic calming planter boxes, and people on bikes everywhere greeted us as we began to explore the city.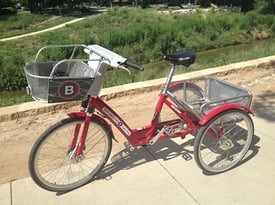 I was excited to try B-Cycle, the Bikeshare system in San Antonio. B-Cycle is the other Bikeshare system, the competitor to Alta, which runs Capital Bikeshare, Citibikes, Divvy, Bixi, etc. They work the same way as Capital Bikeshare – the first 30 minute are free, and run up charges after that. The Spotcycle app includes San Antonio, so if you can't find a docking station, or a wayfaring sign carefully marked to direct you to the closest station, you can use the app. And the unexpected find of a B-Cycle "B-Trike" was exciting, too.
The Riverwalk is the main tourist attraction, but I ventured a bit further away, north to the Pearl Brewery Complex, and south through the historic German neighborhood King William, and even down to Mission San Jose, a national park. The Mission Trail that runs along the San Antonio River south of the city is a gorgeous new development dotted with picnic tables, rest areas, wide decorative paths, and signage about the redevelopment of the trail. B-Cycle stations dot the trail, which makes it an easy way to visit the Missions,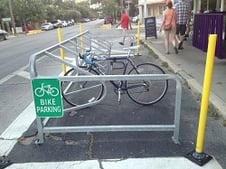 as I did.
We spent a fair amount of time in Southtown, a neighborhood south of downtown San Antonio, full of restaurants, a German beer garden, the Blue Star Brewery and Art Complex, traffic calming planter curbs, and one spectacular bike rack. We happened to be there for the First Friday Art Walk, when all the art galleries are open late, the area pulses with craft vendors, specials at every food place (half price cupcakes? Yes please!), and people on bicycles and on foot. A steady street of people rode by on a variety of bicycles, including a B-Cycle with a dog in the generous front basket, and the Blue Star Brewery ran a Blue Bird bus from one end of Southtown to the other. It is a shame they haven't shut down the street to cars, but there were several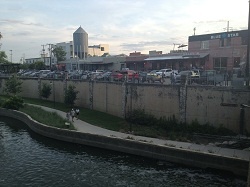 traffic calming planter boxes on both sides of the street; an easy way to reduce traffic and increase the trees along the street.
Maybe leaving right after First Friday left us in a euphoric high, but I remain highly impressed by everything that San Antonio is doing to make the city a more livable, sustainable place to live. It seems Arlington isn't the only place that has figured it out! I'm glad to see more major cities moving in the same direction. As a resident, and as a tourist, finding locations with these amenities makes me really enjoy myself that much more.