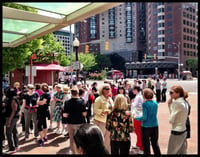 Yesterday 's National Walk @ Lunch Day event was a great success! There was a huge turnout, with nearly 500 walkers stopping by one of our three pit stops in Rosslyn, Ballston, and Crystal City. Not to mention there were also an additional 200 participants who walked with their companies in areas such as Clarendon, Columbia Pike, and Shirlington! The weather was perfect and made it a great day for walkers to enjoy the outdoors and get some light exercise during lunch. Walkers who had signed up and stopped by our tables were able to pick up some fun freebies, sign up for our raffle contest, and take pictures with their walking team. Check out more photos the event on our Facebook page!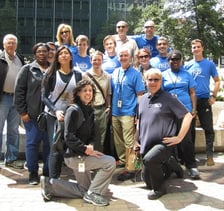 There were also several vendors who partnered with us and provided more giveaways and information to participants. Many thanks to Virginia Hospital Center for giving free blood pressure checkups, as well as Diet To Go, Chick-Fil-A, Potomac River Running, The Holistic Point, Mind Your Body Oasis, Navy Federal, WalkArlington, Allspice Café, Vornado, Rosslyn BID, and the Crystal City BID. We also want to recognize and thank The Nature Conservancy, Monday Properties, and Vornado for providing the fantastic spaces for the event in Ballston, Rosslyn, and Crystal City, respectively.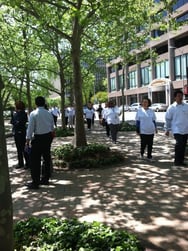 We had a great time yesterday and we hope everyone who participated did as well! Walking at lunch is a great way to stretch your legs during the workday and get some of the recommended daily physical activity. As the weather continues to get nicer, we encourage you to incorporate walking into part of your commute as well! Check out WalkArlington's website for tips on walking in Arlington, as well as information about their neighborhood Walkabouts. Be sure to join them on their newest Walkabout in the Bluemont/Bon Air neighborhood this Sunday from 3-5pm!
Thank you again to all our participants and vendors! Next up: National Bike Month! Make sure to sign up for Bike to Work Day and keep an eye out for more details and events!