Cross-posted at Synergy Health & Fitness.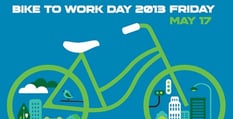 This Friday is Bike to Work Day in the DC Metro area! People are dusting off bikes, checking maps for the best routes, and connecting with neighbors to see who might be biking in the same direction. It's a big party day for area cyclists, even those who regularly commute by bike.
Last year, over 12,000 people registered at a number of pit stops throughout the region, where they were treated to free t-shirts, superheroes, unicycles, local politicians in spandex, and more. This year, bicycle advocacy organizations WABA and BikeArlington plan to surpass those numbers so competition between locations will be fierce.
If you don't normally bike to work, but have considered it before, this is the perfect opportunity to try it. The Bike to Work Day 2013 website is full of information about the area pit stops, how to join a bike convoy, find a ride buddy, or where to go for adult bicycling classes.
Regardless of whether you a biking to or through Arlington, there are four pit stop options – East Falls Church, Ballston, Rosslyn, and Crystal City. The Crystal City BID is sponsoring a full week of morning events leading up to Friday's big day, so be sure the check them out—are you up for their challenge?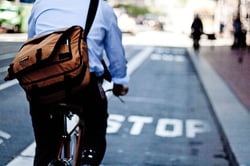 Everyone knows the importance of getting more exercise—doctors, spouses, children, sometimes even employers tell us so. Cycling for 30 minutes to and from work helps reduce obesity rates, risk of diabetes, heart disease, and other illnesses, as well as eliminates the need for cardio time at the gym (don't forget strength training though!), meaning more time at home.
But why focus only on the physical health aspects? Did you know that the mental health aspects of cycling make bike commuters the happiest commuters? A recent study found that people who commute by bike are three times happier than individuals who drive by themselves to work. It's hard not to be happy when you are zipping past traffic congestion!
So now you are convinced—you want to be healthier, you want to be happier, and you know the Bike to Work Day pit stops will add to the fun. Now what?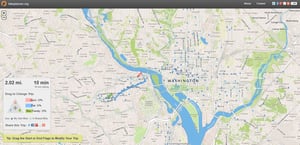 First, find a bike. Doesn't matter what kind, you just need one that is in good working condition, with air in the tires and working brakes. Consider what you want to wear on the bike, and what you will need at work once you get there. Take work clothes into work in the days before you bike, so you don't have to worry about carrying them. You don't need to ride in spandex or Lycra, but something moisture-wicking is a good idea, or whatever you wear to the gym.
If your office has showers, or your employer offers memberships to a nearby gym, perfect; if not, ask your HR rep to contact Arlington Transportation Partners to find out how to make your office more bike-friendly. Map your route with Google Maps, or better yet, bikeplanner.org. This website helps you plot a route in three different ways—bike-friendly, flat, or fastest, depending on your interest.
Use today and tomorrow to prepare for your trip, and then continue the momentum—try biking twice a week for the rest of May, then up it a bit every month over the summer. Soon you will discover the benefits other regular bike commuters attest to—improved health and a better mood!
Tell us why you are participating in Bike to Work Day!