January 28 was the 50th anniversary of the demise of the streetcar in Washington, DC, but streetcars will soon be making their way along district area streets again. And with any kind of luck, Arlington residents will also have their own streetcar, running along Columbia Pike. As someone who fell in love with streetcar commuting in Germany while studying there, I will be one of the first customers to hop on board.
The Columbia Pike Transit Initiative is a joint initiative by Fairfax and Arlington Counties, and proposes to build a streetcar line along, not surprisingly, Columbia Pike. The route will connect the Skyline Plaza/Bailey's Crossroad area in Fairfax to the Pentagon City area in Arlington. This 4.9 mile stretch would fill a hole currently under-served by public transportation; as someone without a car, I can attest to the challenges of taking the bus to Bailey's Crossroads.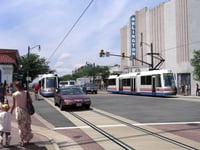 I recently attended a meeting of the Pike Transit Initiative and the NOVA Streetcar Coalition to get the update on development. A great deal of the meeting was taken up with a recently concluded comparison of the streetcar versus other mass transit options, including an articulated bus system. Despite the higher costs of building a streetcar, the streetcar offers the best rate of return – the streetcars carry more passengers, can load more quickly thanks to multiple doors and off-vehicle fare collection, and emit fewer emissions than buses and cars. There was a cost comparison as well – naturally costs have gone up, but as they've formalized plans, requirements have gone up, such as the need for a maintenance facility location and structural support of the Four Mile Run Bridge, which were apparently not factored in before. I was excited to learn that the streetcar will end at the Skyline Plaza, where there is a Target. Who doesn't want an easier way to get to Target?
Planners will soon be announcing a formal public comment period, scheduled for April and May. They anticipate approval in June, at which point they will publicize draft reports, although they admitted that some of the reports will make for dull reading. Although the timeline shows the streetcar not being operational until 2017 at the earliest, knowing that the system is on its way should spur add to the growing interest in next generation transit systems. Offering commuters another alternative to sitting in traffic will reduce congestion, stress, and finances for employers and employees alike. And perhaps inspire local musicians – these Swedish musicians clearly love their streetcars!
Elizabeth Floyd, Business Development Manager, Arlington Transportation Partners. Elizabeth turned her back on owning a car in 1999 when she moved from California to New York City, and is pleased at how easy it is to be car-free in Arlington.