Just when you thought Crystal City couldn't get better bus connection after the launch of the new Metroway bus, there is yet another new bus option.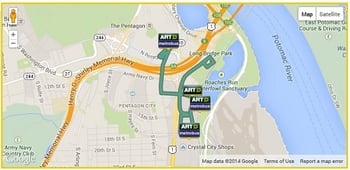 On Monday, October 6, Arlington Transit launched the ART 92. Hot on the trail of Metroway, that connects Crystal City to Alexandria, this new bus route heads north, towards Long Bridge Park and the Pentagon.
Starting at the Crystal City Metro Station, the new bus route offers convenient weekday service, running approximately every 5-10 minutes. The ART 92 stops at the VRE station, the Crystal Gateway Marriott, the new Boeing office complex and the soccer fields of Long Bridge Park, before heading over to the Pentagon Metro Station. Service starts at 6:15am at the Crystal City Metro sStation and ends there at 9pm, Monday-Friday.
The early start and end times make the ART 92 the perfect connection for employees between Pentagon and Crystal City, and is perfect for Boeing employees settling into their new office location. In addition, Pentagon employees can now access the VRE trains more conveniently, which gives them another transit option. With a steady stream of buses going by, there is no reason why VRE riders should have to transfer to the Metro, when they can simply hop on one of the clean, comfortable ART 92 buses.
Having 2 brand new bus routes in Crystal City positions the area as one of the best connected urban villages in Arlington. They already boast planes and trains, as well as automobiles, but adding all the buses means there is no reason to not take advantage of all the active, innovative, artful and green things going on there! Check out the Crystal City BID's calendar of events and test out the ART 92 bus.
So where are you going to go? Leave us a comment and let us know what you think of the new ART 92.