This coming Sunday through next Wednesday, the ATP staff, along with several of our colleagues from partner organizations will be attending the Association for Commuter Transportation (ACT) International Conference in San Antonio, Texas. This annual gathering of transportation demand management (TDM) professionals is an exciting experience for those of us in the office, as we get to hear what other organizations and agencies are doing to reduce congestion and encourage alternative modes of transportation. Throughout the three-day conference, we'll be chatting, listening, and gathering new and innovative ideas about how we can better serve the transportation and commuting needs of Arlington employers and residential properties!
The TDM industry encompasses a wide range of topics and issues which are reflected in this year's conference schedule. With nearly 50 different sessions, meetings, and presentations, there will be plenty of opportunities to learn about initiatives in other cities and discuss subjects that are outside of our day to day work. The conference sessions include topics on public health, TDM and technology, telework, vanpools, bike programs, and much more, while conference speakers come from companies such as Google a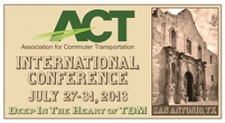 nd Boeing, as well as private and state universities, city agencies, and research institutes.
As we attend various sessions and presentations, we will be posting highlights, quotes, and statistics on our Twitter feed, so feel free to follow us during the conference! Our friends at Mobility Lab will also be in attendance (and speaking!), so be sure to check out their tweets and blog for interesting TDM info as well.
Hope it stays cooler in Arlington than it will be in San Antonio; see you when we get back!