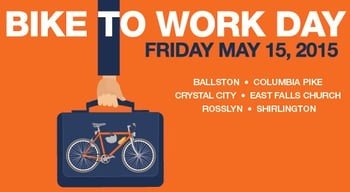 Bike to Work Day (BTWD) is fast approaching on May 15 and it is quite possibly my favorite event of the year! There is such a huge amount of positive energy behind BTWD that it is nearly impossible to not get excited about biking to work. For many of my friends and colleagues, every day is bike to work day but May 15 proves to be something extra special because there is such an outpouring of people who are interested in trying bike commuting but aren't quite sure how to do so.
BikeToWorkMetroDC.org provides registration details and a ton of resources for people to learn about biking to work and how to make the most of this awesome event. With 79 pit stops throughout the region and six located in Arlington County, most people should be able to stop at one of these support locations on their ride to (or from in some cases) work to pick up a bunch of useful bike accessories and fuel up with some food and refreshments.
I really love working at my local pit stop (Rosslyn) and chatting with first time riders – the pride and excitement in their achievement is blatantly apparent, and it should be! Biking to work is no small task! Regardless of the distance someone needs to cover in order to bike to work, there are a lot of logistical and practical concerns that new riders must wrangle with. Some people may not have ridden a bicycle since they were kids while others may not know the best route to ride to work.
Depending on the weather and your level of exertion, you may need to consider showering once you arrive at the office. Do you have appropriate clothes to change into? What roads are the most comfortable to bike? Did you eat a healthy breakfast to fuel your ride? All of these questions and more are some of the daunting questions that often deter people from seriously considering bike commuting.
Bike to Work Day aims to minimize or eliminate as many of these barriers so that commuters can focus on what the day is really about: riding your bike and getting to work in a healthy and environmentally conscious way while building a culture of bike commuting.
Bike to Work Day has grown enormously since it first started in the DC region back in 2001. In its inaugural year, BTWD had about 1,500 registrants. Last year, the registrant count was nearly 17,000 - and that's just registrants! Some people participate without registering beforehand. In short, BTWD has been growing by leaps and bounds every year since it started and 2015 is on track to be the biggest year yet!
Register for BTWD and we'll look forward to seeing you out on your bike on May 15! For additional information on specific pit stops in Arlington County - check out our dedicated Bike to Work Day page.
Have any questions about bike commuting? Leave a question in the comments section below and the ATP team will be more than happy to help you out.
Share your pics, questions or comments on Twitter. Use #BTWD2015.