Every year on September 22, cities all over the world promote Car Free Day in an effort to change the way people think about transportation. Car Free Day does not mean you need to sell your car and start from scratch, it is celebrated to show what a few less trips on our roads can look like. It also doesn't mean you need to be commuting, in order to participate! People can even choose to go "car-lite" by removing just a few of their normal trips throughout the day with an alternative mode, such as biking to pick up your groceries.
Car Free Day is hosted by Commuter Connections in the Washington, DC region to help promote the myriad of transportation options at everyone's fingertips. The event is now only one week away and we could not be more excited! Arlington County is especially well suited for this with access to Metro, ART, Metrobus, Capital Bikeshare and much more. The best part, you can pledge even if you already use these modes on a regular basis. Those who pledge will be entered to win one of many prizes which include Capital Bikeshare memberships, SmarTrip cards loaded with fare and much more!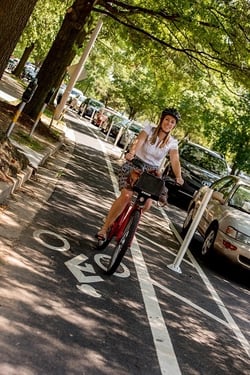 You can take the Car Free Day pledge at carfreemetrodc.org
In 2015, Car Free Day in the DC region is promoting six "car free" teams to create a friendly competition between all the different commuting choices. Here are the different teams you can join when taking the Car Free Day pledge:
#teambike – both riders on personal bicycles and those utilizing Capital Bikeshare
#teampool – anyone who carpools, vanpools or slugs
#teambus – those who use any bus such as ART, Metrobus, Loudon County Transit, Omniride, etc.
#teamwalk – sometimes going car free is as simple as using your own two legs
#teamrail – the obvious choice being Metro but VRE, MARC and any other commuter rail
#teamtelework – be it laptop or catching up on paper, teleworking from the comfort of your home
As of this posting, biking is topping the list by a large margin!
Here is a list of local events taking place within Arlington County.
Crystal City
The Crystal City BID will be giving out coffee and snacks to Car Free Day participants. ATP will also be on-site to sign people up day-of!
7:00-9:00AM
Crystal City Water Park | 1750 Crystal Dr, Arlington, VA 22202
Ballston
Ballston BID has teamed up with ATP and will be giving out coffee and giveaways to Car Free Day participants. ATP will also be on-site to sign people up day-of!
7:00-9:00AM
Outside the Ballston Metro entrance
And just to round it all out, here's a video of yours truly explaining the aspects of Car Free Day!