We've mentioned it before, but it's worth another blog to let you all know that CarFreeAtoZ is moving out of beta testing and is now easier and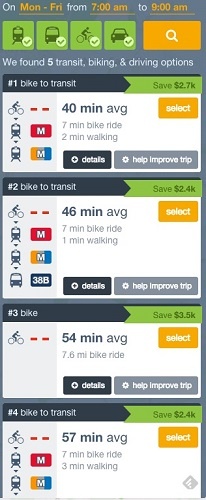 better to use!
CarFreeAtoZ is a great trip planning tool for commuters that was created as part of the Transit Tech Initiative. David Emory, co-founder of Conveyal, describes the tool as "a personalized trip-planning and comparison tool." While CarFreeAtoZ started here in Arlington, VA, it can be used anywhere to plan your trip, learn how many calories you'll burn and see your carbon footprint based on the transit choices you make.
Here's what you can expect when you use CarFreeAtoZ:
"CarFreeAtoZ currently allows for planning trips that combine public transit, walking, biking, and driving. Those modes will continue to be the primary focus, but there are more options that can be shown for them, such as information from additional third-party transportation providers.
Area carpool and vanpool ride-matching services will have enhanced display options, including specific potential matches for a given trip. Users will be alerted when matches are found and will have the option to proceed to the provider's sign-up page.
For those interested in additional biking options, Capital Bikeshare, a frequently requested system in our beta feedback, will be included with specific departure and arrival stations and any walking segments necessary to access the stations. CaBi is also well-suited as a "last-mile" option for transit trips, which can greatly expand the reach of the transit system, and is crucial for enhanced travel planning."
For more information about CarFreeAtoZ - read this great blog from the team at Mobility Lab.