National Walk@Lunch Day – April 29, 2015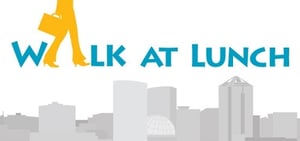 In just a little more than two weeks, businesses, residential communities and commercial properties will be putting on their favorite pair of sneakers to get out and walk at lunch! Come join us as we host pit stops for walkers, giving out free goodie bags* and giveaways from local businesses.
Arlington Transportation Partners (ATP) will be have three dedicated pit stops locations: Ballston, Rosslyn and Crystal City.
You can find more information here.
*Goodie bags available on a first come, first serve basis. Walk early to get yours!
Bike to Work Day – May 15, 2015
It's almost that time of year again when thousands of DC area workers make their way to their jobs on two wheels. Arlington County will not be slacking, with six pit stops in Ballston, Columbia Pike/Penrose Square, Rosslyn, and Shirlington sponsored by BikeArlington. There are also stops in Crystal City and East Falls Church.
If you have never attended Bike to Work Day, you should really check it out. BikeArlington's sponsored pit stops are littered with giveaways, raffles and plenty of fun cycling related spectacles (unicyclists anyone?).
Make sure to register at biketoworkmetrodc.org so you can get your free t-shirt!
For even more info, check out this great video from our friends over at BikeArlington:
Earth Day Events – April 22, 2015
ATP attends dozens of earth day events throughout Arlington to help promote sustainable transportation and commuting options. Our clients realize the importance of alternative transit options when striving towards environmental sustainability. ATP helps to remove roughly 41,000 vehicle trips on an average workday, saving 30,200 gallons of gasoline and significantly reducing CO2 emissions within the county.
If your business, residential community or commercial property is part of our Champions program, both National Walk@Lunch Day and Bike to Work Day helps qualify you for Silver Level!
Are you looking to host an event and want ATP assistance? Contact us at solutions@transpartners.com.