With the expected influx of visitors in the region, as well as events, alerts, and closures for the Presidential Inauguration next week, we want you to be prepared whether you are going down to the National Mall or not. There will be several road closures, schedule changes, and other important transportation notices that travelers should be aware on both Sunday the 20th and Monday the 21st. The map shown displays the restricted areas for vehicles on Inauguration Day, so the use of non-driving modes of transportation is strongly encouraged to avoid traffic and save time in getting to your destination. CommuterPage.com and goDCgo have both put together great compilations of resources from local jurisdictions and transit agencies to help you determine what transportation mode is best for you. To read more about some of the specific options, see below for more links and information.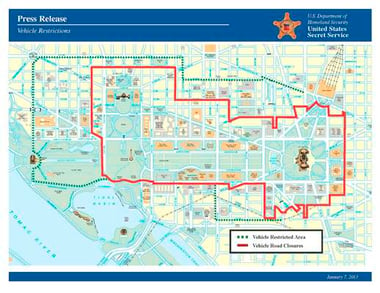 Metro
Inauguration Weekend Service Plans
WMATA Inauguration Twitter Feed
Metro Rider Guide (PDF)
Local Bus
ART Bus Inauguration Schedule (PDF)
DC Circulator
Biking
Capital Bikeshare
Bike Parking – located at 16th & I St and provided by goDCgo and DDOT for personal bikes
Walking

WalkArlington's Tips for Inauguration Day on Foot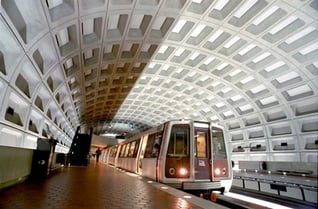 Commuter Bus and Rail
Loudoun County Transit (PDF)
PRTC OmniRide and Metro Direct
MARC Commuter Rail
Travel Restrictions
Best of luck traveling around next Monday! Remember, whether you are attending the Inauguration or not, be prepared before heading out the door.