Uber was running across a lot of news headlines this week, see what else happened and catch up on everything transportation!
All about Arlington
Arlington official promise new Columbia Pike stoplight is on the way
"A traffic light is coming to the intersection of Columbia Pike and South Frederick Street. But when that will occur, and what will happen to improve pedestrian safety in the interim, remains an open situation."
Could burnt bridges haunt Arlington officials on future transportation matters?
"Having burned some bridges with their state and regional counterparts on transportation issues in the past, will Arlington leaders be taken seriously in what could be contentious set of choices related to the future of Interstate 66 inside the Capital Beltway?"
Public Transportation Etiquette - The Golden Rules
"Together we can make riding a bus or train an enjoyable experience if we follow a few basic rules..."
ART bus involved in Six Vehicle Accident on Columbia Pike
"Updated: ART bus driver charged after seven-vehicle wreck"
Transportation today & tomorrow
Uber's Sydney Debacle Is Yet More Reason for Cities to Regulate It
"In challenging local regulations, the ride service has gone too far in undermining public safety."
Can You Stop Traffic By Making Every Citizen Responsible For A Smooth Commute?
"A new app in Mexico City lets people use real-time congestion data to--hopefully--make smarter decisions about how they get to work."
How to encourage poorer residents to use bike, car, and ride sharing
"Capital Bikeshare struggles to draw low-income users, despite outreach efforts..."
Express Lanes as Precursors to Ubiquitous Road Pricing
"The nearly $1 billion project converts existing HOV lanes along I-95 into tolled HOT lanes while letting HOVs continue to drive for free, and extends the lanes to Stafford County."
An Easy Exercise With 31 Proven Health and Fitness Benefits
"I would be surprised if you were aware of all 31 benefits that walking can bring."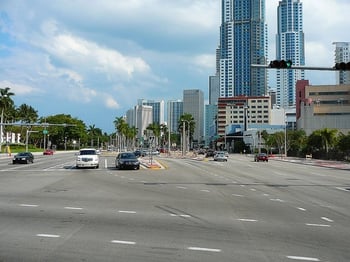 Photo Credit: Alan Parker
TransitScreen Looks to Keep Up With Fast-Changing Transportation Landscape
"More signage that includes all transportation systems will make it easier for people to understand their options and consider eco-friendly modes."
A Widely Used Planning Manual Tends to Recommend Building Far More Roads Than Necessary
"A lesson in 'phantom' trips."
If Uber Implodes, We'll Still Have Car-Share
"As Uber's pricing tactics create headline after headline, rental car-share services like Car2Go are playing nicely with city government - and profiting nicely in the process.
Transit is Efficient, Attractive, Enjoyable, Prestigious, and, Yes, Safe
"Better, and more realistic messaging about the actual safety of public transportation in long overdue."