Short week for most of our readers, so thought we'd send out our Weekly Wrap a little early. Plus, a little holiday fun from the whole team here at ATP. Wishing you all a very Happy Holidays!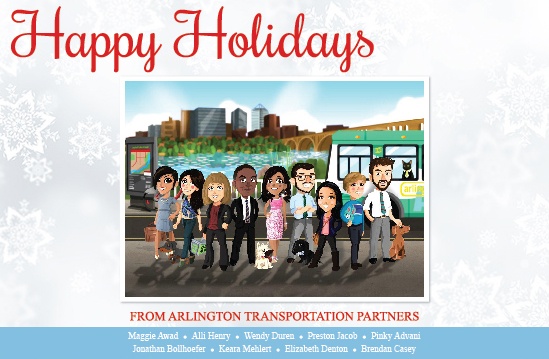 ART Bus Series: ART 45 (Columbia Pike-DHS/Sequoia-Rosslyn)
"In this particular series, we'll explore all your ART bus options that run through the County and highlight which routes are best for which urban villages."
The Drop in Transit Benefit Has Effectively Be a 20% Cost Increase for Metrorail Riders
"The drop in the federal transit benefit is making Metrorail riders feel the pinch in their wallets, and it's hurting ridership."
Parking with Protected Bike Lanes
A guide from Arlington County on how to park near protected bike lanes.
Despite Cheaper Gas, Public Transit Ridership Is Up, Trade Group Reports
"Riders like Mr. Needham get a lot of value from public transportation, as do people in many other cities where investment in transit is leading to record-high ridership rates and persuading more people to leave their cars at home despite the latest plunge in gasoline prices."
The Biggest Transportation Breakthroughs of 2014
"From driverless cars to safety initiatives, it was quite a year for advancements in mobility."
Developers Push Hogan To Back Purple Line
"A group of local developers and business leaders are banding together to convince Governor-elect Larry Hogan not to kill the Purple Line."
"Map #10 - Uber Trouble"
America's Streets Are Safer for Drivers, But Not for Pedestrians
"U.S. roads are safer than they've ever been for people who travel in cars. But has that come at the expense of those who travel on foot?"