Slow week for Arlington transportation news, but plenty happening around the country and the world. Get caught up here, including a feature from Mobility Lab!
All about Arlington
No streetcars for Arlington, but bus service can do the job
"The public lament regarding Arlington's decision not to advance streetcars on Columbia Pike inaccurately and unfairly characterized bus service and bus riders."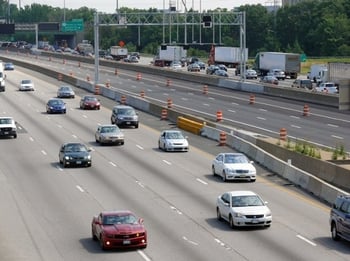 Photo Credit: Washington Post
95 Express Lanes to open, temporarily free, on Sunday
"The 95 Express Lanes are set to open on Sunday along the project's full 29 miles in Northern Virginia. But for the first two weeks, drivers can use them for free."
Transportation today and tomorrow
5 Parking Innovations Every City Should Adopt
"From pay-by-plate kiosks to pollution surcharges to length-based fees."
"A slew of new research links walkable neighborhoods with safer, healthier, more democratic places."
Real-Estate Investors: Pay Attention to 18-Hour Cities, Millennials, and Infrastructure in 2015
"Real-estate trends, like new "18-hour cities," will create a need to educate people about growing transportation options."
Downtown Denver Could Soon Have a Crowdfunded Bike Lane
"A planned protected bike land would line Arapahoe Street in downtown, eventually syncing up with several other protected cycle tracks. But while those other lanes will most likely be funded publicly, the Arapahoe Street project is being spearheaded by the Downtown Denver Partnership, a business organization."
It Turns Out That Millennials Do Drive
"In many metros, young people today commute by car as often as they did in 1980."