A ton of good news this week, but plenty of bad too. Keep reading for the good, the bad and the downright ugly.
All About Arlington
What drivers are discovering about the new HOT lanes
"Unlike the Beltway HOT lanes, the ones in the middle of I=95 are reversible."
Street Signs to be Replaced With New, Bigger Signs
"All of the streets signs in Arlington are in the process of gradually being replaced by signs with bigger lettering."
Express Lanes temporarily suspended tolls because of weather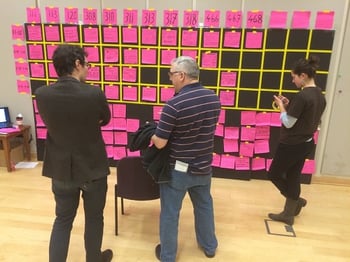 Photo Credit: Mobility Lab
"With the threat of freezing rain Sunday night, the express lanes were free to encourage more traffic, and more melting."
TransportationCamp Provides a Twist on the Usual Academic Conference
"The innovative approaches discussed at TransportationCamp provide a glimpse of the way public transportation will operate in the future."
CarFreeAtoZ Adding Goodies to Become the Complete Trip Planner
"CarFreeAtoZ is a personalized trip-planning and comparison tool that Arlington County, Virginia beta-launched this fall as part of its Transit Tech Initiative."
Transportation Today & Tomorrow
"An investigation into Monday's incident needs to be completed, but Washington area commuters have plenty of reason to be outraged by their transit agency."
Obama administration outlines 30-year transportation plan
"With the population explosion in the South and West expected to continue and aging infrastructure requiring a massive overhaul elsewhere, the Obama administration on Monday began to map out a 30-year framework to meet those needs."
Uber offers cities an olive branch: your valuable trip data
"Uber is announcing plans to share its data more broadly with local governments in a gesture that's both an act of good will and a bid for good press after a rough few months of criticism."
Providing a Leg Up to Low-Income Americans with Rideshare, Carshare, and Bikeshare
"Policymakers and others need to find ways to increase use of shared-space mobility options by people with low incomes."
In Light Of L'Enfant Plaza Incident, A Reminder On How To Evacuate A Metro Car Properly
"In light of the events of yesterday, here's WMATA's instructions for how to safely evacuate from a Metro train."
Comment of the Week: The end of errands and driving's decline
"There's absolutely no reason for me to spend my evening or weekends darting around the city, and I try to avoid going into store if and at all possible."
New striping on Vancouver Ave is a 'SAFE' hotline success story
"There is so much wasted space there, it'd be great to create a buffered bike lane in this area."
Why a 10-Minute Commercial Flight Isn't As Dumb As It Might Sound
"A brief look into the endlessly complex world of passenger airline scheduling."
Off the rails: Why streetcars just aren't making it
"You know things are bad for public transportation projects when even "transit-supporting urbanites" have started questioning their value."