Lots of snow this week and plenty of good stories to go along with it! Our favorite story below is from Scotland where scientists proved that biking keeps you young. File that under "Awesome"!
All About Arlington
Hynes to remain Arlington rep on WMATA board
"Arlington County Board members on Jan. 1 approved the appointment of chairman Mary Hynes to represent the count on the board of direction of the Washington Metropolitan Area Transit Authority, which oversees the Metro system."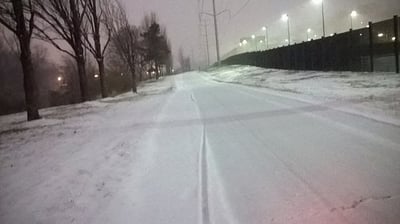 Photo Credit: Michael Neubert
Arlington County Plows Bike Trails Early
As promised in a November 2014 statement, Arlington County cleared bike paths early on Tuesday, January 6, 2015.
Transportation Today & Tomorrow
Which Is More Evil: Uber or D.C.'s Old Taxi Zone System?
"Uber may not be an ideal ride-hailing solution. But let's remember the unpredictable, shifty days of Washington's unmetered cabs."
Stop Being an Intransigent Oaf - Bike Lanes are Good for Car Drivers Too
"Then I got to 11th Street and the cyclist went to the bike lane and I was in my lane and it was beautiful. We were both on our way."
"Manspreading," and other clever campaigns changing subway etiquette
"From Paris to Tokyo, creative ads are being use to change the way we share public transportation."
Stuck in the Middle: When Transit-Dependent Communities Lack Good Transit
"NYC neighborhoods with low household incomes and high unemployment lack the excellent transit access to jobs available int he city's most affluent areas."
On your bike: scientists prove that serious cycling can keep you young
"A study of fit amateur cyclists aged 55 to 79 found that many were physically and biologically much younger than most people of the same age."
California High-Speed Rail "Breaks Ground"
"The groundbreaking is purely symbolic, of course, and the project to link San Francisco and Los Angeles with a 520-mile railroad on which trains will operate at speeds of up to 220 mph still has a number of hurdles to clear."