In case you missed it - here's the Weekly Wrap to catch you up on what you need to know from this past week!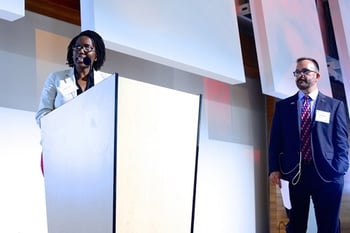 Veronica O. speaks about bike messaging.
All About Arlington
Messages for Getting People to Bike Need to Be Revamped
"Veronica O. Davis thinks "bike to work" is the wrong message."
Arlington ready to tap Virginia transportation money
"The Arlington County Board is read to ask the Old Dominion for upward of $22 million in funding for a variety of transportation projects."

Does The Regional Transportation Plan Include Enough Mass Transit?
"In the DC region, transit and roads live side by side, but the question lingers of how to apportion funding."
Transportation today & tomorrow
Regulators want to create a new app for taxis to compete with Uber. Would it succeed?
"DC Taxicab Commission Chairman Ron Linton has suggested, in effect, a way for taxis to compete with Uber: Run their own Uber-like app."
Not Just a Phase: Young Americans Won't Start Motoring Like Their Parents
"Young adults in 2009 were driving less and walking, biking, and riding transit more than young adults in 2001, according to the National Household Travel Survey."
US: Transit Leaders Tie Investment to Prosperity in Hopes of Federal Bill
"Transit officials are changing their pitch for funding from Congress, arguing that a lack of investment is clogging roads and hampering the economic strength of regions like Houston."
The Future of Transportation Is Not All Flying Cars

"We're going to need roads where we're going, but we don't need just roads, and we don't need to use them the way we use them now."
Photo Credit: Mobility Lab