Last week of October and the countdown is on to the holidays. Here's what you missed in transportation news beyond Arlington County.
Transportation today & tomorrow
The Purple Line will likely beat ridership forecasts
"Tucson's new streetcar and the light rail between Minneapolis and St. Paul are beating ridership forecasts. It's a good bet that the Purple Line, which will break ground next year, will do the same. What do they have in common? All run through the heart of major state universities."
"Both Muriel Bowser and David Catania say they support the idea of "Vision Zero" and the end of traffic deaths and injuries in the District of Columbia."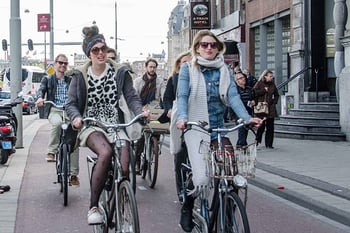 The new wonder drug? Cycling, some advocates say
"Cycling has positive impacts both for cyclists and non-cyclists alike, helping to reduce pollution and congestion and improving health and economic factors with just two wheels."
Why a Street Designed for Transit Is Also Great for People
"When cities devote street space exclusively to buses or trains, they usually encounter some stiff resistance to change."
"For long-distance travelers looking for low-emission options, choices are shrinking as Europe's overnight trains fade away."
How to Decide If You Can Live Without a Car
"Cars are a way of life in the US (and around the world). While most of us enjoy the freedom they offer, their costs can be a burden on the budget."
Glowing 'smart cycle lanes' are pitched to UK
"A stretch of glow-in-the-dark road markings has been installed in the Netherlands after being proposed as one of the several "smart highway" features that could be put to wide use."
Photo Credit: Urbanful