We hope you have marked your calendar for National Walking Day on Wednesday, April 6, 2016.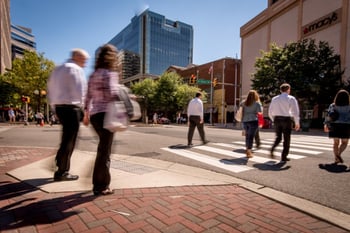 Studies suggest a midday walk can immediately boost people's moods, focus and ability to handle stress at work. Small bursts of activity during the day go a long way toward improving your health.
Organize an office walking group or group of friends from your residential building and take the first step towards a healthy lifestyle by walking to work or taking time to walk at work.
Register your group and be eligible to receive a free gift from ATP and local vendors. Remember swag will be available on first come first serve basis.
Like previous years we will have three pit stops. Keep reading for additional pit stop information.
Ballston
Thank you to The Nature Conservancy for being our pit stop partner.
4245 N Fairfax Drive
Arlington, VA 22203
Time: 11:30AM-1:30PM
Crystal City (Crystal City Water Park)
Thank you to Vornado/Charles E. Smith for being our pit stop partner.
1750 Crystal Drive
Arlington, VA 22202
Time: 11:30AM-1:30PM
Rosslyn
Thank you to The JBG Companies for being our pit stop partner.
1901 N Fort Myer Drive
Arlington, VA 22209
Time: 11:30AM-1:30PM
Download the poster to share the event information with your friends and colleagues.
If your business, residential community or commercial property is part of Champions, this event helps qualify you for Silver Level. Make sure to tweet us your walking group @ATPCommutes using #WalkingDayDC!
Ready! Set! Walk!
Photo Credit: Sam Kittner/Kittner.com