This year's National Walk@Lunch Day event was our most successful yet! The weather could not have been more perfect for the event – 1,958 participants came out to celebrate yesterday, stopping by the three pit stops in Ballston, Crystal City and Rosslyn, as well as walking groups from Arlington County Public Schools and Virginia Hospital Center who hosted their own events.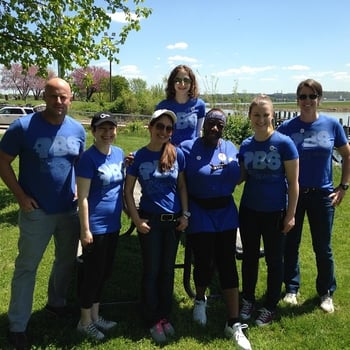 At each pit stop, registered participants were able to pick up their lunch box goodie bag, plus information, materials and giveaways
from our pit stop partners. Virginia Hospital Center was also on hand to offer blood pressure and grip strength tests to participants as well as health and fitness education materials. The PAL Bike Ambassador trailer and BikeArlington also stopped by Ballston and Rosslyn to share how to be a PAL (Predictable, Alert and Lawful) and get everyone excited for Bike to Work Day, happening on May 15th!
In Ballston, over 700 people stopped by The Nature Conservancy during their lunchtime walk and were able to enjoy giveaways from the Ballston BID, Sweetgreen, Little River Yoga and Alive Juice. As in years past, companies such as Fors Marsh Group, Airlines Reporting Corporation and NACAC did a great job promoting National Walk@Lunch Day and had a high turnout among their employees. Thank you to WalkArlington for helping us give out goodie bags and providing information!
The Crystal City pit stop at the Water Park was visited by around 650 employees from over 30 businesses and organizations. The location, provided by Vornado, was the perfect space for all the participants as well as local vendors including Mind Your Body Oasis, Sport & Health, Potbelly and the Techshop.
Over 400 people visited the new Rosslyn pit stop location at the Plaza on 19th, which was used in partnership with the Rosslyn BID. Walkers could pick up information and coupons for the DC Circulator, listen to live music from Eric Scott and enjoy food from the Meggrolls food truck. Thanks to BikeArlington for chatting with participants and giving out information!
Arlington County Public Schools had over 200 employees register to walk, and several teachers even took a walk with their students! APS participants mostly walked around their school or surrounding neighborhood and tweeted pictures with the hashtag #APSWalks. Shout out to Washington-Lee High School who had 39 walkers and Barcroft Elementary with 30 participants!
Thank you to all of our awesome partners and vendors who helped make the event so successful! We look forward to next year's event which will now be held on National Walking Day in early April.
>> For even more photos, visit our Facebook page and checking our the National Walk@Lunch Day 2015 album.