National Walk@Lunch Day 2015 is fast approaching and will be hosted in Arlington County on April 29, 2015. Be sure to save the date!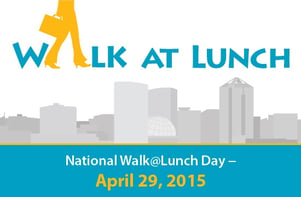 We are currently organizing all 3 pit stops, but check out our official National Walk@Lunch Day page where will we update you with the most current information.
National Walk@Lunch Day is a great way to promote health and wellness among your employees. If you're ready to be a part of National Walk@Lunch Day on April 29, 2015, go ahead and fill out our online form. Whatever you do, don't miss out!
If your business, residential community or commercial property is part of our Champions program, this event also helps qualify you for Silver Level!