We are less than two weeks away from National Walk@Lunch Day happening on April 29 from 11:30am -1:30pm. Hopefully you have registered and you are as excited we are to partake in all the festivities planned for the day.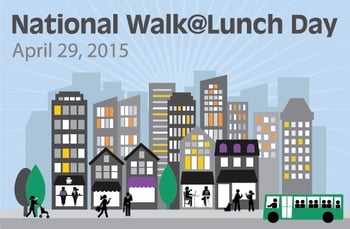 Here's a special sneak peek at what's planned - Virginia Hospital Center will be offering free blood pressure checkups at all three pit stops, raffle prizes, live music at the Rosslyn pit stop and more!
Stop by your registered stop and enter to win a raffle prize. You could be the lucky winner of a FitBit or a one on one running class with PR Running Store located in Ballston. More information about the individual pit stops is listed below.
Ballston
A BIG thanks to our partner and Gold Level Champion, The Nature Conservancy for hosting the Ballston pit stop.
Location: The Nature Conservancy Building at 4245 N Fairfax Drive, Arlington, VA 22203
Our friends from the Ballston BID will also have giveaways for our walkers and information about their upcoming events like Taste of Arlington and the Ballston Farmers Market. Stop by the ATP table to collect a coupon from Ballston's favorite salad place, SweetGreen.
Crystal City
This pit stop has been organized in partnership with Vornado, the developer behind four of our Silver Level Champions at Crystal Squares.
Location: Crystal City Water Park at 1750 Crystal Drive, Arlington, VA 22202
Our business partners, Sports & Health, will be offering free BMI checkups and sharing membership options to our walkers. For our walkers who are interested in trying a free Yoga or Far Infared Sauna, we'll have coupons from Mind Your Body Oasis. We'll also have some sweet treats from Potbelly Sandwich Shop, come grab one!
Rosslyn
This pit stop has been organized in partnership with our Silver Level Champion, the Rosslyn BID.
Location: Plaza on 19th at 1911 N Fort Myer Drive, Arlington, VA 22209
(The plaza sits on the corner of 19th and N Morre St, one block of Rosslyn Metro Station)
Our colleagues from the BID have organized a few amazing festivities for the day, including entertainment from singer/songwriter Eric Scott and Meggrolls food truck those walker looking to also grab lunch.
Walking is a great form of exercise and an easy commute option here in Arlington. Take a lunch break, get some fresh air and stop by at one of the three pit stops to celebrate National Walk@Lunch Day, hosted by Arlington Transportation Partners.