Where you live is an important factor in determining the ease with which you can use public transportation in your daily commute. And, in an area as big large as the Washington, DC metro area, identifying those options can be a pretty daunting process. Luckily, the good people at Walkscore have launched a new tool to help with this very problem. The Walkscore Apartment Search program lets you find apartments that allow you to get to your office in a specified amount of time using public transportation. The listings pull primarily from Craigslist, but also provides links to other rental sites.
For example, I can enter the address for my office in Rosslyn, and come up with a map detailing all of the listings that would be within a 30 minute commute via public transportation.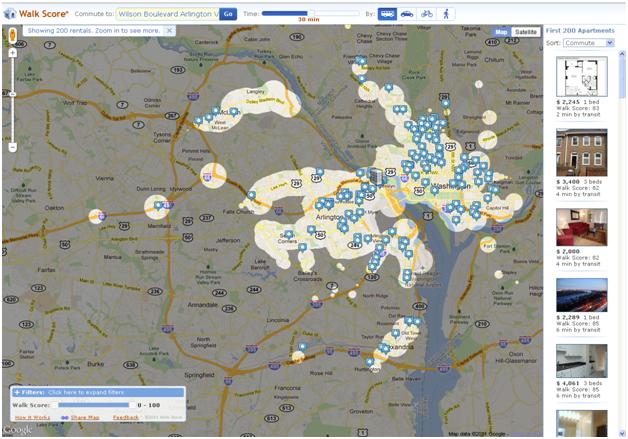 Having just wrapped up my own apartment search, I instantly saw the value in a tool like this. It would have saved me an enormous amount of time spent toggling back and forth between Craigslist and Google Maps to determine the location of various apartments.
Even better, the tool will allow you to search using transit, bicycle and other modes of transportation.
You can learn more about this new tool here.
Brett Jones is a Business Development Manager with Arlington Transportation Partners. He rides the Metro to work, and thinks maps are pretty neat.