May is National Bike Month, and hopefully everyone is getting out and riding their bikes! Even if you haven't worked up to biking to the office, there are plenty of other ways you can safely enjoy all the bike trails and paths in Arlington.
May is also National Skin Cancer/Melanoma Month, and the two actually have more in common than it might seem. Do you put on sunscreen when you get on your bike? If you are heading out for a long, leisurely ride on the weekend, you probably think about it. But do you put it on every day, before heading out to work? Did you know that sunscreen should be worn whenever you head outside? In addition, if you bike, walk, or take the bus and Metro to work, you are spending enough time outside to warrant sun protection.

Despite the best educational efforts of the Skin Cancer Foundation, most people feel they only need sunscreen when they are laying out at the beach, or some other sort of lengthy recreational spring and summer activity. In truth, sun damage happens all the time – 365 days a year, sunny or overcast. Yes, you can get sun damage when the skies are overcast – the damaging UV rays still penetrate clouds. So when you are waiting for a bus, walking to a Metro station, biking to work, or even just walking around during your lunch break, it is important to wear sunscreen, or cover up with clothing and wide-brimmed hats.
According to the Skin Cancer Foundation, skin cancer and melanoma (the most dangerous kind of skin cancer) are the most common forms of cancer in the United States, and one in five people will get some kind of skin cancer in their lifetime. One person dies of melanoma every hour. And sadly, skin cancer is one of the most preventable cancers overall. All it takes is a daily application of SPF 15 or higher on any exposed skin, including the backs of your hands, ears, the part in your hair, and the tops of your feet.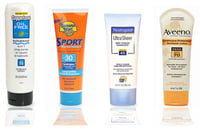 There is no such thing as a safe tan, so head to your local drug store to study the wide array of sunscreens on the market, and find one that suits your lifestyle. Leave it by the door so as you are heading to work, you remember to put some on. Its only one of the steps that will make commuting healthier.

For more information on skin cancer and its prevention, visit the Skin Cancer Foundation website.
For more information on other ways to healthify your commute, visit the Healthify Your Commute! page on the Arlington Transportation Partners website.