Next week, March 3-7, is Telework Week 2014! This global initiative is in its fourth year of encouraging individuals and their employers to telework and highlighting the benefits of working remotely. During last year's campaign, nearly 140,000 people pledged to telework, taking nearly 12 million vehicle miles off the road and saving commuters $12.3 million in travel costs.

In the DC area, telework programs among employers has increased steadily over the past decade – according to the 2013 State of the Commute, nearly 27% of regional commuters teleworked regularly or occasionally, up from 11% in 2001. In addition to advances in technology that have made it easier for employees to work remotely, businesses have grown more aware of the impacts that telework programs have on their bottom line.
More employees want flexible work schedules and their employers now see telework and alternative work schedule programs as a crucial part of their em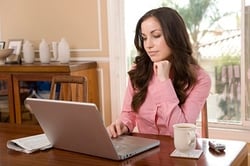 ployee retention strategy. In addition, telework helps improve productivity, as employees can log on and work instead of wasting time sitting in traffic, or can still be connected if they can't come into the office due to bad weather. Telework was especially helpful these past couple months for many DC-area employers and agencies! Despite the numerous rounds of inclement weather, they were still able to maintain business as usual due to their telework policies.
For businesses new to telework, this event is a great opportunity for employers to do a "trial run" of a new telework policy. Even if your business already has a telework program, next week is a good time to evaluate how it impacts your company, from the cost savings to employee satisfaction. Take the pledge today and start planning now for next week's event!