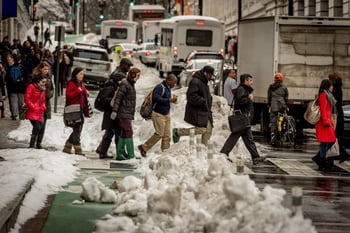 Did the January blizzard affect your business continuity and productivity? If you answered yes then we have some good news for you. ATP has partnered with Telework!VA to help you avoid these types of situation by establishing and administering a telework program for your organization. ATP and a Telework!VA specialist can help create a pilot telework program by identifying positions that are best for telework, drafting telework policies and agreements and creating a technology plan.
There are some common misconceptions about telework, such as lower productivity level or having multiple employees telework is a bad idea. To avoid these misconceptions, we have put together a list of Myths vs Truths to help you overcome teleworking challenges.
Myth: If I implement a telework program, all my employees will want to telework.
Truth: Teleworking is not for all employees, it depends on the nature of your job. ATP and a TeleworkVA representative can help you identify positions that are best for teleworking.
Myth: I need to be fair to all employees.
Truth: For employees who cannot telework due to nature of their job, an employer can offer other benefits such as alternative work schedules or compressed work weeks so that everyone will have equity in their benefits.
Myth: Teleworking is just a substitute for child care or dependent care
Truth: Teleworkers have tasks to complete and must arrange care just as they would if they were working in an office.
Myth: Out of sight, out of mind
Truth: Modern technology and software such as Skype have made communication seamless.
Myth: Teleworking employees are not available when you need them
Truth: Managers and teleworkers must create an agreement that outlines the specific terms of the work arrangement to ensure proper coverage and communication within the office.
Virginia Telework Week, March 7-11, 2016 is a great time to promote or enhance a telework program. Benefits of a telework program have proven results of reducing real estate costs, decreasing employee recruitment and training cost, improving employee morale and reducing carbon emission.
Pledge today to join organizations and individuals throughout Virginia to participate in Virginia Telework Week.
Have a telework question for us? Email us at solutions@transpartners.com and we would be happy to help you.
Photo Credit: Sam Kittner/Kittner.com