In September, 1,200 dockless bikes were unleashed on to the streets of DC for a six-month trial operated by five different operators (MoBike, Lime Bike, Jump Bike, Spin and ofo). While dockless bikes do not operate in Arlington, many of these bikes have been appearing on this side of the river because it's so easy to bike between Arlington and DC.
Here is what you need to know.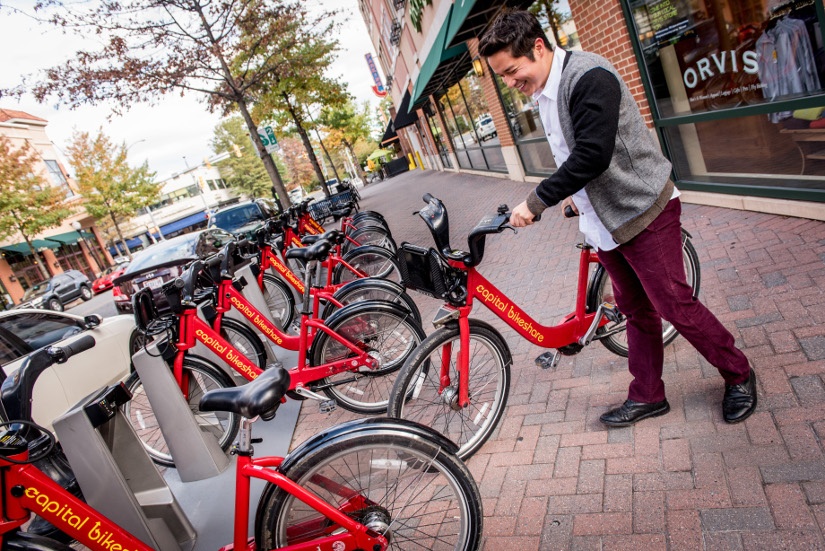 What Exactly is Bikeshare?
The term bikeshare describes a network of bikes that users can access for short one-way trips. Unlike a rental service in which you take one bike for the whole day, bikeshare users tap into the network to pick up a bike when they need it, and end the trip when they reach their destination.
One way to think of bikeshare is as a quick way to get somewhere that's too far to walk to but too close for Uber or Lyft.
Know the Difference
Capital Bikeshare is the DC area's docked bikeshare. Users pick up a bike at a bike station and end trips by securing the bike in a dock at a station near their destination.
Dockless bikes don't have "homes" like Capital Bikeshare. That means that users find and unlock individual bikes on the corresponding app and then leave the bikes wherever is most convenient, like on a sidewalk or against a bike rack.
Using Dockless Bikeshare in DC
Each bikeshare has its own app to locate and unlock bikes, but with the Transit app, users can see all bikes nearby and open the corresponding app to start a ride with a particular brand.
The rider experience on each bike vary by brand and construction of the bike. We will leave these preferences for you to explore. But below is a chart outlining information you must know. We're also including Capital Bikeshare for a full comparison.
Our launch party's Thursday. Join us! Food, beer, surprises. More ebikes⚡

RSVP. Get our app. Use code JUMPLaunch17https://t.co/uONU53D9Go pic.twitter.com/Cnrvr2qfK4

— JUMP Mobility (@jumpmobility) November 6, 2017
Price: $2 for 30-minute rides; $1 credit for bringing a bike back into hub location (back within DC borders)
Bike specs: E-bike; 3-8 booster levels gauge your effort and give you a little extra power; front light outlines basket and rear light turn on when in use
Restrictions: E-bikes are not allowed on off-street bike paths or trails; bikes must be parked at a bike rack on sidewalks with the bike's attached U-lock
Welcome to the #MobikeMovement @MobikeUSA 🚲 🇺🇸 #Mobike launches in Washington D.C. 🎉 #DC #USA #MobikeUSA https://t.co/sAK3TcqVrm pic.twitter.com/LOl4fjFRF0

— Mobike (@Mobike) September 20, 2017
Price: $1 for 30-minute rides
Bike specs: Three-speed; front light turns on when in use, rear reflector
"We look forward to seeing all the ways we can continue to work to improve urban mobility and transportation for all of D.C." - CEO Toby Sun pic.twitter.com/XyVLtADVmh

— LimeBike (@limebike) October 2, 2017
Price: $1 per ride; $.50 per 30 minutes for students (register on app)
Bike specs: Single-speed; reflective sidewalls in spokes, front and rear LED lights
We're live in DC! We'll be adding 100 @spincities bikes to the streets this week. Keep an eye as we add more #SpinDC pic.twitter.com/vN15KzuiXC

— Spin DC (@spin_wdc) September 20, 2017
Price: $1 per 30 minutes
Bike specs: Three-speed; front and rear lights turn on when in use
The secret is out... WE'RE COMING TO D.C.!
 
We're so excited to be rolling out & joining the D.C. community this Tuesday (10/10)!#ofoDC pic.twitter.com/OPu27KBeio

— ofo US (@ofo_bicycle) October 9, 2017
Price: $1 per hour
Bike specs: Three-speed; front and rear lights
Today's read on Capital Bikeshare. Holding strong and ready to expand and share the bike love. #bikedc https://t.co/VEBsG7I1jr

— Capital Bikeshare (@bikeshare) October 3, 2017
Price: $2 for 30-minute rides; annual membership ($85 for unlimited number of rides in a year) is more commonly used
Bike specs: Three-speed; front and rear lights turn on when bike is in use
Additional note: Members can use a plastic key or generate a code through the Capital Bikeshare app to unlock bikes at a dock
Another important variation to remember is that some individual dockless bikes have a physical lock that must be activated at the end of each trip in addition to ending the trip with the app. Read apps carefully for specific instructions.
Use Bikeshare Responsibly
As always, share the road responsibly when you are biking and obey all biking and traffic laws. When you finish a trip, be courteous to those who will be walking around the bike you just left behind.
Leave a five foot berth for pedestrian traffic. Never block driveways or entrances. Do not park bikes against trees or in plants. If a sidewalk is narrow, park the bike parallel to the curb so as not to take up walking space. Place bikes in locations that are safe for the next rider to pick up a bike.
While well-intentioned, do not place dockless bikes into a Capital Bikeshare station; they are not technologically compatible. At the same time, Capital Bikeshare is still a docked bikeshare system, and the bikes must still be docked to end a trip.
Treat the bikes with care; they are shared bikes for everyone to use.
Dockless in Arlington
As mentioned above, the six-month trial of dockless bikeshare is entirely a DC project at this time. The operators do not have an agreement with Arlington County so their operating location is within Washington, DC borders.
If you see a bike in Arlington, you can contact the operator to collect their bike to take back into DC, or you can ride the bike back into the operating location (JUMP bike offers a $1 credit every when a bike is ridden back into the operating area).
This is all still very early in the experimental phase so there is no telling right now how policies could change.
Enjoy the Ride
How do you use bikeshare? Do you switch between dockless bikes and Capital Bikeshare for different situations? We want to hear your thoughts and burning questions.
Photo Credit: Sam Kittner/Kittner.com for Arlington Transportation Partners