There are a plenty of Arlington events to look forward to in this month's list of upcoming events!
Share this blog or download a print friendly flyer to share with your tenants and residents. Download flyer
METRO SAFETRACK BEGINS: EAST FALLS CHURCH TO BALLSTON – JUNE 4
In DC Metro news - from June 4-16, Orange and Silver Line trains will continuously single track between East Falls Church and Ballston Metro Stations. Additional bus service will be added for select routes to help alleviate passenger congestion. Details here.
ARLINGTON'S TRANSIT FUTURE OPEN HOUSE – JUNE 7 & 9
Join County staff to learn about Arlington's future bus service and transit plans. The proposed 10-year plan for bus service in Arlington will be submitted to the County Board for approval this summer.
All members of the community are invited to attend the June 7 and 9 open houses. Details here.
CRYSTAL CITY POP-UP WINE AND BEER GARDEN – JUNE 10
Crystal City's outdoor pop-up happy hour returns every Friday in June. Swing by the Crystal City Water Park for live music, hand-selected beers and wines and a free outdoor ArtJamz session. Details here.
ARLINGTON ACTIVE STREETS FESTIVAL – JUNE 11
Join BikeArlington and the Air Force Association Cycling Classic for Arlington Active Streets Festival! All programming will be located in Clarendon Circle at the intersection of Wilson, Clarendon and Washington Boulevard. Stop by for free programming from 9am-2pm—with classes from Down Dog Yoga, Phoenix Bikes, Saffron Dance and Arlington County Parks and Recreation. There will also be a moon bounce and bike rodeo for kids. Details here.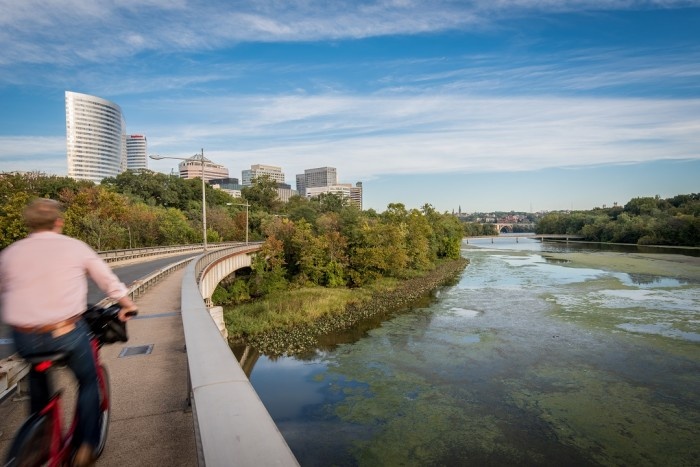 AIR FORCE CYCLING CLASSIC - JUNE 11-12
Taking over Clarendon on Saturday and Crystal City on Sunday, the Air Force Cycling Classic has something for everyone.
You can spectate and cheer on pro cyclists, register your kiddo for the Kid's Races or ride the 15 KM closed course in the Challenge Ride, which is open to riders of all skill levels. Details here.
COLUMBIA PIKE BLUES FESTIVAL - JUNE 18
The Blues are coming back to the Pike! This free street festival will feature great music, local food, art/craft vendors and fun kids' activities. Details here.
METRO SAFETRACK CONTINUES: ARLINGTON CEMETERY TO ROSSLYN – JUNE 18
From June 18-July 3, there will be no rail or bus service between Arlington Cemetery and Rosslyn. Blue line passengers are encouraged to travel via L'Enfant Plaza instead. Details here.
ZERO PROSTATE CANCER RUN/WALK - JUNE 19
This Father's Day, take the challenge and join the movement to end prostate cancer by attending the ZERO Prostate Cancer Run/Walk at Pentagon Row.
The event features a 5k run/walk, 1 mile walk and 200 yard Kids Superhero Dash for Dad. Details here.
ADULT LEARN TO RIDE CLASS – JUNE 26
If you're an adult that never learned to ride a bike - you're not alone. The area has a 1,000 person waiting list for this class, but we're offering these spots to Arlington residents first.
Space is limited, so register today! Details here.
COMMUNITY CALENDARS