Arlington Transportation Partners is excited to share that our little work family has grown by one. We're very pleased to introduce you to our new employee - Christy Lee, ATP's Business Development Specialist. Christy rounds out the team, offering sales support to all six Business Development Managers and marketing assistance to yours truly.
Before starting her new gig here at ATP, Christy spent time in Korea oogling their transportation system and studying for her certification in Microsoft Certified Solutions Associate (MCSA) in SQL Server.
We're happy to have her on board as she's the glue to our little Arlington puzzle, helping us prominently with database and website management. Keep reading to learn even more about Christy and be on the lookout for her at our Champions Ceremony and other upcoming 2016 events!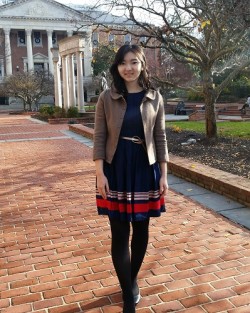 Hometown: I grew up in Bethesda, Maryland
Where do you live: I've moved within the DC Metro area and came back to Bethesda, MD!
Previous work experience: I worked as a website developer for a construction company and I've transferred those skills and my database background to join ATP's team.
Most recent vacation: I went camping at Tuckahoe State Park last summer and became sworn enemies with the mosquitos that attacked. It was a rainy weekend, but kayaking was a scenic experience.
Favorite happy hour spot or restaurant: I'll have to pitch my favorite dessert place – Manoa in Annandale for Korean shaved ice. It's the texture of snow and the green tea flavor is my favorite!
Favorite band: I don't have one, I go through phases.
How do you get to work and what's the best part of your commute: I take the bus and Metro. I found that while I get motion sickness very easily in cars, I can read throughout my whole commute on bus and Metro, which I enjoy being able to do.