Exciting changes are happening here at Arlington Transportation Partners (ATP). As we prepare to celebrate our 2014 Champions and look forward to 2015, the growth of our successful Champions program has shown a need for a new employee - an additional Business Development Manager.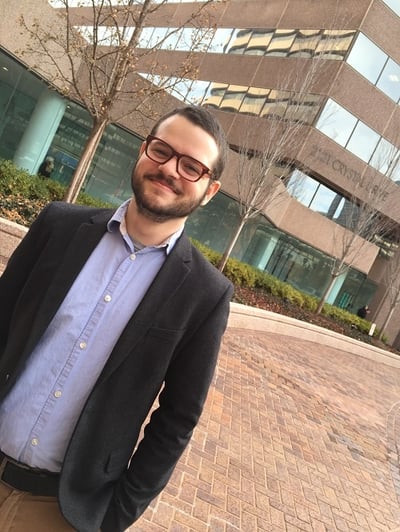 The team here at ATP excitedly welcomes Jonathan Bollhoefer to our growing family. Jonathan will be working with employers located in Crystal City, Pentagon City and Shirlington to help bring even more transportation benefits to employees – whether they choose to bike, walk, take public transit or share the ride! He's already been busy, busy, busy participating in everything from employee health fairs to Champions meetings; Jonathan has definitely hit the ground running.
Some of you may stop to think, "But wasn't I working with you, Elizabeth?" The answer is yes, but Jonathan is ready to be your new rep and point of contact. Don't worry, I'm still at ATP; however, I'll now be working on a new grant that focuses on transportation demand management (TDM) for public schools in Arlington County. In the almost 3 years that I have worked in Crystal City, Pentagon City and Shirlington, I've developed some nice relationships and have increased my appreciation for the amenities in each urban village; but, I'm really excited for my new challenge working with Arlington County Public Schools.
Jonathan is also really excited to meet everyone and to help implement transit benefits, participate in employee wellness programs and to share the Champions opportunity with even more employers.
Please join me in welcoming Jonathan to the team - here is a bit more about Jonathan in his own words:
Hometown: Navarre, Florida – a tiny little beach town about 30 minutes east of Pensacola, Florida. It's an interesting meld of military personnel (a huge air force base is nearby), southern country folk, retired snowbirds and tourists.
Where do you live?: I recently moved to the Shaw area in Washington, DC. Before that I was living in Courthouse in Arlington for almost 3 years.
Previous work experience: For the past 3 years I worked at a non-profit called Community Health Charities helping to raise money for important health related charities across the country. Before that I worked in facilities management in Toronto, Canada and volunteered as an English teacher in Xi'an, China.
Most recent vacation: I recently traveled with my girlfriend to London and Barcelona. My grandmother is from Bedford, just outside London, so it's always great to see that area as I was brought up with a lot of British culture. Barcelona is truly awesome for food, drink, and sight-seeing and I plan to return soon!
Favorite happy hour spot: Currently A&D in Shaw! In Courthouse I was partial to Galaxy Hut and Cava Mezze.
Favorite restaurant: I love El Chilango, it's a little taco truck on 14th St N between Quinn St and Queen St in Courthouse. The owner is a really cool guy and his tacos are unbelievably good.
Favorite band: The Tallest Man on Earth (I will get flak for this because I definitely think I said something different when I first met the team)
How do you get to work, and what's the best part about your commute?: Most days I ride my bike 4 miles in from DC! I also metro when the weather isn't cooperating.
Be on the lookout for your chance to meet Jonathan in person, soon. He's eager to meet all of you!