We hope you've registered your team for National Walking Day 2017 on Wednesday, April 5 from 11:30AM – 1:30PM. If you haven't yet, you can sign up here.
We're looking forward to seeing you at one of the four pit stops - just pick the one closest to you and start walking. Your group can also take advantage of the walkabout maps to enjoy your walk through the community. Like previous years, we have plenty of festivities planned at all our pit stops with giveaways from us and local vendors. Our friends at Virginia Hospital Center will host an interactive fitness table at three pit stops (Ballston, Crystal City and Rosslyn) and share information about how you can include fitness at work with tips on desk exercises and more.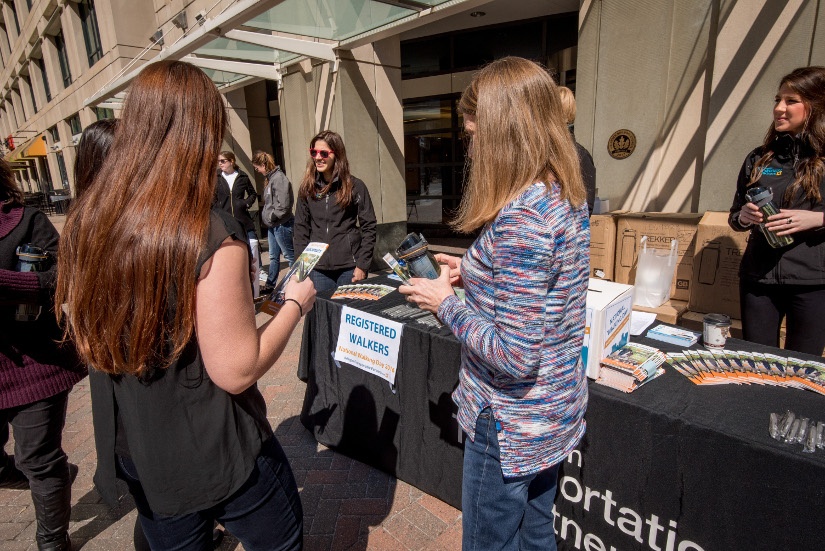 Remember to bring a few business cards to enter in our two main giveaways. We're giving away a new FitBit and raffling a one night stay at the Key Bridge Marriott. Below are details of what we have planned for all pit stops. Be sure to follow us @ATPCommutes for updates.
Ballston | The Nature Conservancy Building
4245 N Fairfax Drive, Arlington, VA 22203
Stop by the Ballston BID table for giveaways and information on their upcoming events, as well as fitness tips from the Virginia Hospital Center. Bring an additional business card to enter in a raffle for two tickets for the Taste of Arlington. There will be giveaways from our partners at American Heart Association and Navy Federal Credit Union Bank. Thanks to our partner, The Nature Conservancy, for hosting the Ballston pit stop.
Use the Ballston Walkabout map to plan your route.
Columbia Pike | Department of Human Services, Sequoia Plaza
2100 Washington Blvd, Arlington, VA 22204
There will be plenty of fun swag and giveaways from WalkArlington and us at ATP for all of our walkers. Thank you to our partners, Arlington County and WalkArlington.
Use the Columbia Pike Walkabout maps to plan your route: Hike 1, Hike 2.
Crystal City | Crystal City Water Park
1750 Crystal Drive, Arlington, VA 22202
We'll have free 6-minute massages available and giveaways from The Holistic Point and a table hosted by the Virginia Hospital Center. Additional giveaways from Potbelly Sandwich Shop and Mind Your Body Oasis will be available to those who walk to this stop. Thank you to our pit stop partner, Vornado.
Use the Crystal City Walkabout map to plan your route.
Rosslyn | Central Place
1800 N Lynn Street, Arlington, VA 22209
Virginia Hospital Center will demonstrate their health and wellness tips and share exercises on getting fit even if you're stuck at your desk day-to-day. Thank you to our pit stop partner, The JBG Companies.
Use the Rosslyn Walkabout map to plan your route.
Share the Event
Download the poster to share the event information with your friends and coworkers. Your group can stop by the nearest pit stop while enjoying the walk through the community. Tweet pictures of your walking group using #NationalWalkingDay. We'll see you at one of the pit stops!
Photo Credit: Sam Kittner/Kittner.com for Arlington Transportation Partners