Well, 2012 has really flown by – can you believe that it's almost time to start thinking about the holidays? October certainly had a crazy ending (thank you, Sandy) and we hope that you were able to apply some of the new tips and strategies from our Prepare Your Commute seminars. If you missed this event, check out the recap video. The storm has had a major impact on transportation throughout the east coast, reminding us that it is important to have a backup plan for our commutes.
Hopefully this month will be less eventful weather-wise, however, there are a number of important dates and events to be aware of, check out the links below for more information!
Remember to turn your clocks back one hour this Saturday night for Daylight Savings! It's going to be darker out much earlier so it's important for commuters to be visible to other road users, especially during the evening rush hour. Wear bright or reflective clothing, and make sure to have front and rear lights if you are riding a bike. For more information about safety and commuting, check out these tips from WalkArlington and BikeArlington!
This month, our friends at Mobility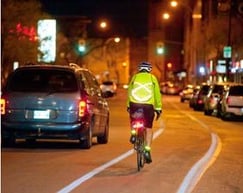 Lab are excited to announce the release of their first e-newsletter, Mobility Lab Express! This publication, which will be sent out periodically, features a number of different articles about transportation issues and sub-topics such as planning, the environment, and economic development. We encourage you to subscribe today!
If you are a developer or property manager, we invite you to attend the LEED/TDM Symposium on November 29, which ATP is co-hosting with Mobility Lab and Arlington Economic Development. This event will discuss transportation demand management and how these strategies and programs can help your property attain LEED status and ultimately improve your bottom line. For more information and to register for the event, click here. We hope to see you there!
Finally, the I-495 Express Lanes, which are located between the Dulles Toll Road and Springfield interchange, will be open to drivers starting November 17th. These lanes will help cut traffic and allow faster trips for commuters. Remember, there's no toll for carpools with 3 or more people - you just need to make sure you have a special E-ZPass so you won't get charged. Carpooling is always a great way to save money and get to work faster! To sign up for an Express Lane E-ZPass, or for more information on the lanes themselves, check out the website today.
For more information on any of the above events, feel free to contact ATP! Hope everyone has a great weekend, and enjoy your extra hour of sleep on Saturday!