I recently joined the team at Arlington Transportation Partners (ATP) as Planning Coordinator for the Property & Development Services program. As soon as I accepted my new position, I headed to CarFreeAtoZ.com to explore my different commute options to work. The distance from my apartment in North Arlington to our office in Rosslyn is about 2.5 miles as the crow flies, and my trip planner revealed that virtually every commuting option was available to me.
Many people appreciate routine, but personally, I enjoy mixing things up from time to time. While my commute was transit-based in my first week, I have also incorporated walking into it as well. I eliminated carpooling from my potential choices because of the short distance of my commute. As I explored my options, I decided that it wasn't necessary to rely just on a single mode for my commute.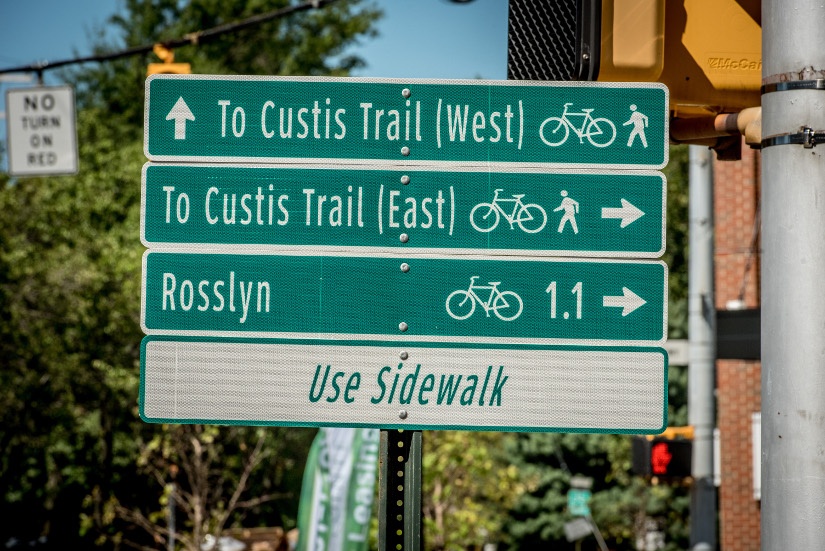 I hope to experiment with different bike routes during the weekend to build my confidence so that I can start biking to work. As I live and work near Capital Bikeshare stations, I have the option of biking one way and using another mode for my return trip.
It's very exciting for me to have so many options, but as a former car commuter, there were also several adjustments that I had to make to be ready for a successful car-free commute. Read these easy tips below and you'll be ready too!
Storage is Limited
Commuting by car requires less daily planning than using other modes because you can load it up with all of the stuff that your day may demand. I did grow accustomed to the seemingly endless supply of storage space that my trusty Ford Escape could provide.
Not sure what the weather will be today? No problem, I'll bring four different coats with me. A trip to the gym and then social plans after work? I'll just pack it in my car.
Most alternative means of transportation limit your daily storage space. This isn't a deterrent for me, but it does require some additional planning.
I started by clearing out all the nonessential items in my work bag. Some things I will store in my desk, while others I will just do without. I don't miss all the extra stuff I had stored in my car and I know my shoulders appreciate not having to carry it all.
Keep Tabs on the Weather
Whether it is waiting at the bus stop or walking to the office, alternative transportation methods will cause you to be a bit more exposed to the elements. I carry a compact umbrella in my bag and check my weather app before leaving the house every day to be sure I am prepared.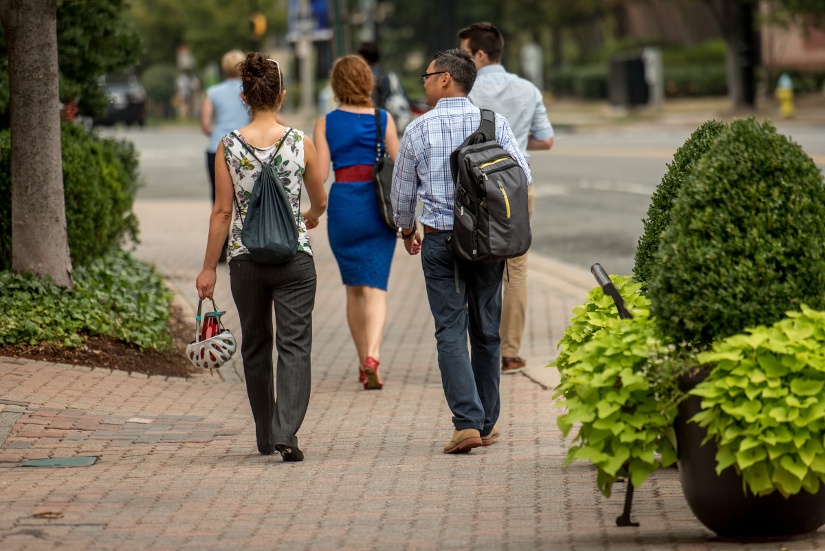 Comfort is Key
Just because a shoe is comfortable enough for a day in the office doesn't mean that the shoe is comfortable enough for a three-mile walk home. After my first-day blisters, I now have a comfortable pair of shoes in my bag at all times. I know some of my colleagues keep their work shoes in a desk drawer, this seems like a great space saving solution that I may have to adopt.
Backpacks > Shoulder Bags
I must admit that I enjoy wearing a big shoulder bag to work, and I currently have one with plenty of storage that I think looks very professional. Unfortunately, it is not living up to the demands of my commute.
A backpack makes so much more sense for both transit, walking, and biking. I'm thinking that I will store my shoulder bag at the office to use during the day, but rely on a backpack for my journey to and from home.
Don't Forget Headphones!
Or to keep your phone full of music and podcasts that you enjoy. It is a great way to relieve some stress and boost your energy. If I had a longer transit commute, I would likely try to get some things done or read a book. However, because my bus ride is under 20 minutes, I prefer to sit back and listen to something I enjoy.
Know Your Options
Ditching your car for transit or active transportation may require a few tweaks to your daily routine. Don't let that dissuade you from giving it a try. Check out various apps to see what options you have for your commute. With the right preparation, your commute just might become the best part of your day.
Bonus: if you need help planning your commute to or from Arlington, the team at Arlington Transportation Partners can help you find the best route.
Photo Credit: Sam Kittner/Kittner.com for Arlington Transportation Partners