Thinking of getting a dog? Great! Did you know that owning a pet is a great way to get out and walk more? In fact, pet ownership has been linked to higher rates of walking.
Pet-Friendly Arlington
Walking is not only a great form of exercise; it is also a great way to strengthen your connection with your neighbors and community. Arlington is a great place to own a pet and walk and has been recognized as a Gold Level Walk-Friendly Community. Residents have access to ample green-spaces and countless shops and restaurants that are pet-friendly. You are sure to step into a healthy lifestyle and warm community in Arlington.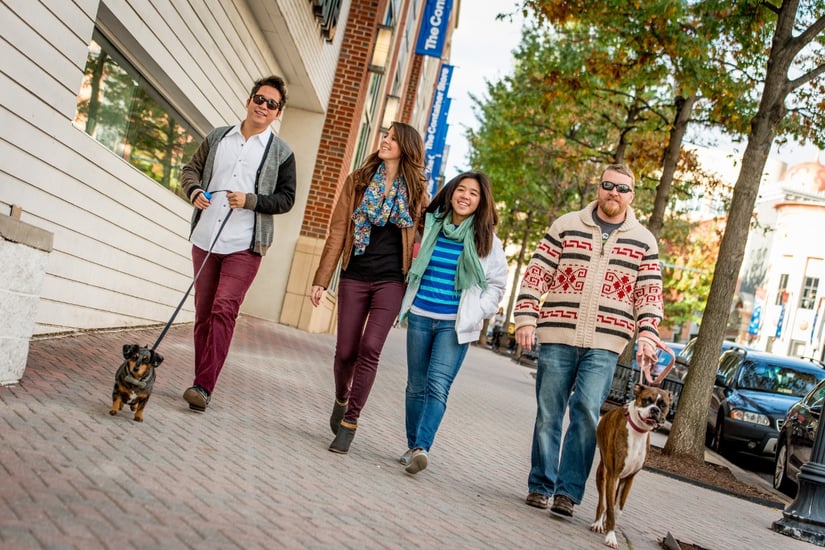 Arlington IRL
I sat down with Arlington resident, Alli, to find out how her dog, Bear, has shaped her living experience in Arlington. Alli choose to live in her neighborhood because it's so walkable and offered her and Bear easy access to green-space. They are reaping the benefits.
Alli has found that getting out and walking Bear has led to serendipitous encounters with neighbors. In fact, she has found that her neighbors have come to know her by means of her dog. Whether they are at their local park or walking to their favorite café, she has found that it is pretty common that some of her neighbors get to know her dog's name first.
Exploring Arlington
Bear has also helped her explore her neighborhood. She notes, "My dog is really headstrong like other Dachshunds, so he likes to take me in different directions around our neighborhood. I constantly find myself exploring my neighborhood in new ways. Developing a sense of place here has been the biggest pleasant surprise for me now living and working in Arlington."
Connect to Your Neighborhood
November is Adopt a Senior pet month. Look no further than opening up your home and neighborhood up with a new friend and older pet. Find the perfect companion at the Animal Welfare League of Arlington and download WalkArlington's Walkabout brochures to start exploring Arlington.
If you're interested in learning about more events and initiatives to connect to your neighborhood, sign up for updates from Arlington Transportation Partners.
Photo Credit: Sam Kittner/Kittner.com