This post is part of a series highlighting the ART bus lines throughout Arlington County and how both residents and visitors alike can take advantage of the ART bus system. Check out the other ART routes in this series here.
Sometimes we hear from residents and visitors that the reason they choose to drive is because the bus system is nerve wracking. We get that—in fact, the first time I ever used Metrobus, I had to ask if I needed to tag off when exiting the bus. Thankfully, the Metrobus driver took pity and didn't laugh at me. Even though I avoided being publicly humiliated, it took a lot of courage to ask that simple question.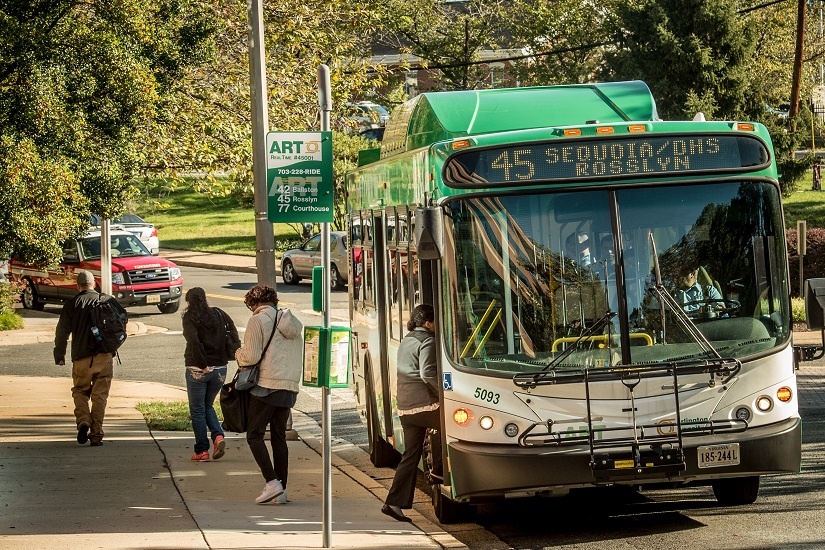 So how can we, as transportation geeks, expect non-transpo nerds to get on board when there's a huge barrier in the way? Well, we hope that if we arm you with as much information as possible, that you'll at least take the first step of considering public transportation before immediately bolting to your car.
While going car-free is an awesome decision to make, it's also a very hard one. So instead of biting off more than you can chew, consider a car-lite lifestyle and change out at least one trip per day in your car in favor of bus, metro, bike, or walk.
In this particular series, we'll explore all your ART bus options that run through the County and highlight which routes are best for which urban villages. As a division of Arlington County Commuter Services, we are particularly focused on Arlington-based transit in this series, even though there are many great Metrobus routes in the County. If you're curious about the difference in ART and Metrobus—check out this great blog we wrote back in October. And if you need a how-to on paying for the bus, I recommend our SmarTrip 101 blog. Everything you need to know, all in one place!
ART 45
First up in our 15 part series (because there are 15 ART routes!), the ART 45. Why? Well, the answer is simple. It's the bus I ride every day to and from work. I know it well, even with my nose in a book every day, and now you will too.
Route Highlights
The ART 45 runs from Columbia Pike and Four Mile Run Drive all the way through Clarendon and Courthouse, terminating at the Rosslyn Metro Station. ART 45 is the route that makes it easiest to travel between the Columbia Pike corridor over to Clarendon, Courthouse and Rosslyn urban villages.
Without the ART 45 route (and a few other routes), residents and visitors would need to take the bus and transfer to Metro at Pentagon or Pentagon City to reach the Orange Line of the Metrorail. Talk about out of the way! Riding the ART 45, residents and visitors can reach Clarendon, Courthouse, and Rosslyn in approximately 20 minutes.
You can view a highlighted ART 45 route map at arlingtontransit.com.
Urban Villages Served
The ART 45 services Columbia Pike, Clarendon, Courthouse and Rosslyn. This bus also serves the Arlington County Department of Human Services at the Sequoia Plaza.
Route Timings
ART 45 buses run every 30 minutes Monday through Friday only. Bus service is not available on the weekends. ART RealTime Arrivals are available through this ART specific Rider Tool.
You can also click to view a print-friendly ART 45 route and schedule PDF.
Metro Station Stops
This particular ART Bus route stops at two major Metro stations—Courthouse and Rosslyn. Riders can exit the bus and easily transfer to the Orange and Silver Lines at Courthouse or the Orange, Silver, and Blue Lines at Rosslyn.
Highlighted ART 45 Stop
As a regular ART 45 rider, one of my favorite stops is at Columbia Pike and South Barton Street. Yes, I'm a fan of the Pike and will gladly tell you all the amazing things about my urban village, but this ART bus stop strategically drops you off in front of all the upgrades the Pike has added in the last 2-3 years.
As soon as you step off the bus, you're in the heart of Penrose Square, a current Gold Level Champion. You can find great local restaurants like Red Rocks (Bronze Level Champion) or small businesses such as Columbia Pike Revitalization Organization (Silver Level Champion) and Papillon Cycles (Silver Level Champion), which is the oldest bike shop in Arlington County!
But the fun doesn't stop there, be sure to check out some of my favorite Pike hot spots:
William Jeffrey's Tavern, a modern day speakeasy
Twisted Vines, a quaint little wine bar with delicious small plates
Arlington Cinema & Drafthouse, a movie theater and drafthouse in one
Thai Square, the most authentic Thai I've had in Arlington outside of Thailand
It's not just fun and games on the Pike, there are tons of other great small businesses that are worth supporting. So while Columbia Pike may not sit on a Metro line, there is still plenty to discover—just hop on the next 45 rolling through your neighborhood and see where ART can take you.
If you are visitor to Arlington County, be sure to visit our friends over at StayArlington for even more information on activities, hotels, culture, and more.